Bankruptcy - 6 Smart and intelligent tips to avoid it
Bankruptcy - 6 Smart and intelligent tips to avoid it It is better to file bankruptcy when you have failed to solve your debt problems in spite of your best efforts. Bankruptcy can hurt your credit score big time. It not only reduces your credit score by 200-250 points but also remains on your credit report for 7-10 years. This is why it is wise to know about the tips that may help you eradicate your debts without filing bankruptcy. Read through the article to gather knowledge on 6 smart and intelligent tips that may help you avoid bankruptcy and solve your debt problems at the same time.
Smart and intelligent tips to avoid bankruptcy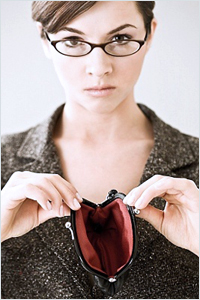 Here are the 6 interesting tips that may help you avoid filing bankruptcy and protect your credit.
1. Analyze your financial situation: Do you have an idea of the total money you spend in a month or a year? If not, then you should gather information on your income, expenses, savings, debts, investments, etc. This will help you make an accurate estimate of your financial situation.
2. Follow a proper budget: After a realistic analysis of your financial situation, you should create a budget and live frugally. Your main aim is to match your income with your monthly expenditures. Budgeting will help you meet your goal. A good budget will also show you the areas where you can potentially save money. You can use the savings to pay back your creditors on time and avoid entangled with debt problems.
3. Get short-term help: If you are stuck in a situation which can have a major impact on your finances, then you can try to get short-term help from your family and friends. This is not the time to feel ashamed. Rather, you need to act smartly and rationally in this kind of a situation. It is much better to get financial help from your friends instead of getting into a serious financial crisis. However, make sure you ask help from those friends who can afford to lend you money for a short-term.
4. Negotiate with your creditors: If you have a small number of creditors, then you can make a realistic deal with your creditors. You can request your creditors to reduce a portion of the debt amount or give you more time to repay the debt. It will be even better if you can convince your creditors to lower the outstanding balances and extend the time period simultaneously.
5. Sell your assets: This may be hard for you but it is wise to sell your assets to repay your debts. The reason is, you'll need to sell your non-exempt properties when you'll file Chapter 7 bankruptcy. So, if you can avoid filing bankruptcy by just selling your assets, then you should go for it. It will also help you save your credit score.
6. Quit bad financial habits: Do you visit casinos on every week-end? Do you love playing roulette in your favorite casino? If yes, then you should quit this addiction as early as possible. You should stay away from the casinos even if you are tempted to go there in the hope of making quick money. Gambling can make you bankrupt in a single day. So, exercise self-control and restrict all your impulses to hit the nearest casino.
Finally, if you have got a job recently and are planning to apply for a credit card, then it is better to not implement the idea. You can take out a debit card instead of a credit card. This is because there is less chance of incurring debts when you use a debit card. You can only spend up to the amount available on account. So, there is no possibility of overspending or becoming bankrupt