 Can I get arrested for default of payday loan?
I don't think so. I haven't heard anyone getting arrested due to default of payday loan. But there are certain things that you should know which can help you in dealing with the payday loans.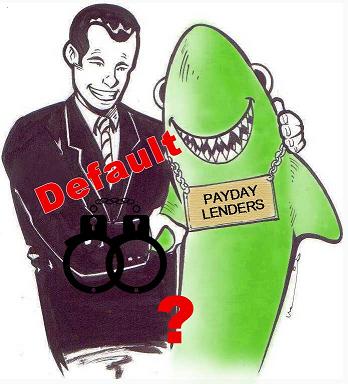 Payday loans are regulated by the payday loan laws of the state. Please check the payday loan laws of your state here. But there are some states where payday loan companies operate as Credit Service Organizations (CSOs) to avoid the regulation of pdl laws. Some of those states where many payday loan companies operate as CSOs are listed here. To know more on payday loan companies acting as CSOs, read this information.
What happens if you don't pay a payday loan? I have come across this question many times. To answer this question, first of all I have to tell some basic points. You can get a payday loan either from a store front or an internet/online payday loan company. Both of these are regulated by laws. To know more, read along.
Ways of tackling payday loan companies:
i. Store front payday loan company
If you have taken a payday loan from a store front then you have to follow the payday loan laws of your state. You can ask for an Extended Payment Plan (EPP) from the company if you are finding it difficult to pay off their debt. But there are concerns about the efficacy of such payment plans. Here are some concerns associated with EPP.
If you default payday loan then the store front can sue you for collecting the debt. But I haven't heard anyone getting arrested for not paying payday loan.
ii. Online or internet payday loans
If you have taken payday loan from an internet or online payday loan company then first check whether the company is licensed to lend in your state. To check the internet payday loan laws click here. If the company is illegal then you are not legally bound to pay them anything. But on moral grounds we urge our viewers to pay the principal amount of the debt borrowed from illegal pdl companies. The following article can help you in dealing with the illegal pdl companies:
Dealing With Illegal Payday Lenders
If the online payday loan lender is licensed in your state then you have to follow the pdl laws of the state.
Is there a debt consolidation for payday loans?
Yes, payday loan consolidation programs are available. You have to search for the best company that can consolidate payday loans and get you out of this mess.
My view on payday loans and some alternatives
I consider payday loans as predatory. These loans come with extremely high rate of interest, sometimes as high as 780% APR. I always try to avoid these loans. Payday loans may help me in the short run but its ill effects are long term and can also ruin my life.
There are many alternatives to payday loans, but we generally avoid them for various reasons. I am jotting down some of the alternatives to payday loans: -
• Borrow from our family, friends or relatives. This may sound demeaning to you. But it will not land you into some payday loan mess for which we have to regret later.
• Inquire whether your bank/credit union offers any option of overdraft protection to your checking account. If such an option is available then opt it to meet your immediate needs and avoid payday loans.
• Request your employer to pay your salary check in advance.
I hope this post has helped you gain insight into payday loans, its ill effects, some way outs and alternatives.