10 simple and frugal ideas to spend Valentine's day
10 simple and frugal ideas to spend Valentine's day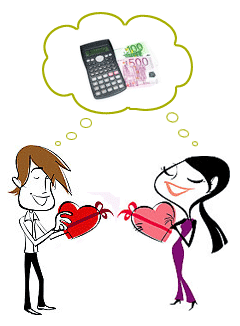 Ferrer rocher chocolates….. diamond studded watch……. designer shoes…. ipods…. flashy cell phones….. gucci bags…. pink sapphires….. Clive Christian perfume spray…. an outrageously expensive get away in Phuket….
The list of cliché Valentine's Day gifts is endless, it goes on and on with most of the gifts emptying the pockets and leaving the loving souls sweating! Don't worry, on this 14th of Feb you do not have to spend hundreds and thousands of dollars, here are some great suggestions for creative Valentine's Day gifts that are sure to impress and surprise but yet won't break your budget.
Do not rush to Hallmark to get hold of a card…..you can make the perfect Valentine's cards for that special someone within hours and it won't cost you a fortune, either. All that you need for making these great little Valentines Day cards is a package of construction paper, some glitter, markers, a few glue sticks, and a pair of scissors.
Make a small booklet (entitled "The reasons why I love you") on your own and then jot down all the reasons that made you head over heels for your valentine.
Do you remember the old adage that says "a way to a man's heart is through his stomach"? On this Valentine's Day twist it a bit and treat your sweetie with sumptuous dishes made by you. Show her that you are nothing less than a master chef! Lol!! Do not worry even if you burn the fries at one side……take my word she would still gorge on them.
Take your valentine out to the place where both of you met for the first time. Go for a stroll and hold each other's hand….spend a good amount of time with each other. After all time is the best gift that you can give to your loved ones, isn't it?
On this Valentine's Day spend some precious moments with each other by doing something that both of you like (hobby crafts) it can be anything from photography, gardening, cooking, wood crafting, or salsa dancing to water coloring.
Valentine's Day is not only for young couples…..so why don't you make your parents feel special on this 14th? Suggest to your beau about a double date with both sets of parents, so the family members too get an opportunity to know each other. Treat the family with a lip smacking meal prepared by both of you.
Gift a compilation of all the romantic songs to celebrate the cherished memories.
Share the precious moments both of you had spent with a handmade photo collage. You can also gift personalized photo frames by adding a special romantic message beneath the snap.
A personalized coffee mug for a coffeeholic valentine. Every time your sweetheart takes a sip from it that would remind him or her of the love that both of you share.
A valentine box filled with love letters, cards, flowers or chocolates is surely going to leave your loved one amazed at the thought that you have put so much of your time and effort in the gift.
If you have some more amazing ideas then feel free to add them...........enjoy this season of luv :)