Black Friday - Avoid 4 bad deals to be a savvy shopper
Black Friday - Avoid 4 bad deals to be a savvy shopper Black Friday has not lost its appeal amidst the online shopping frenzy. Thousands of consumers hit stores on Black Friday. Retailers also devise smart advertisements to catch the attention of consumers. As per a recent report published by the National Retail Federation, nearly 147 million consumers will shop heavily during the Black Friday weekend.
It is certainly true that consumers can get good deals on Black Friday. Previous pricing trends show that consumers get some items at a good price during the Black Friday weekend. However, there are certain items which are completely bad deals. Consumers should avoid purchasing those items on Black Friday.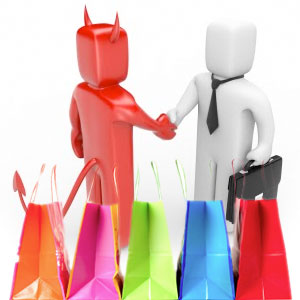 Items to avoid on Black Friday
Check out the 4 essential items which consumers should avoid purchasing on Black Friday.
1. Laptops: The best price on laptop is available in mid December. Retailers offer laptops at a low price during that time. The price is 20 percent less than the average price during the festive season. If you can afford to wait a little bit longer, then purchase laptops in January. You'll get an even better price.
2. Non-branded television: Electronic retailers offer televisions at a super-low price during Black Friday weekend. Consumers visit the stores and purchase televisions. What consumers don't realize in their shopping frenzy is that they're actually purchasing HDTV or non-branded televisions. Retailers promote the non-branded televisions aggressively. They often tell consumers to not to go for branded items. Some consumers blindly believe the words uttered by retailers and end up purchasing non-branded televisions.
Don't be fooled by the attractive advertisements. There is a hidden agenda behind every advertisement. Buy a branded television by spending an extra $50 or $100.
3. Toys and games: The best time to purchase toys is during the weeks before Christmas. It is not that you'll get toys at a very high price on Black Friday. It is just that the price of goods will fall further during the Christmas. If your child really wants to buy a branded toy on Black Friday, then don't wait till Christmas. The popular toys may be sold out by then.
4. Household appliances: Web and print world are flooded with advertisements on household appliances. You'll see advertisements of television, washing machines, refrigerators, etc. If you're planning to purchase small appliances, then try to shop prior to Black Friday. You can even purchase small appliances post Black Friday.
For instance, you can get the best price on vacuum cleaners during the week preceding Black Friday. The price of vacuum cleaner is almost 14 percent less during this time. You're less likely to get this price in the remaining season.
There are a few products which you can purchase after Black Friday to get a good deal. For example: You can get microwaves at an excellent price in the mid-December. You can get as much as 10 percent discount on them.
Finally, your motto should be to grab good deals on Black Friday. So, spend your money wisely on this mega shopping event. Don't purchase anything which you'll regret in future.