Revise your health resolutions in February to save dollars
Revise your health resolutions in February to save dollars
Most resolutions fall apart by the middle week of February. You may have remained strong and resolute in the month of January, but your determination has possibly vanished by 14th February. It is not possible to predict your resolution for 2013. However, it must be something related with improving your financial and physical health. Right?
If you really wish to stay financially and physically fit in the year 2013, then check out the following tips to amend your resolutions to save dollars and shed extra kilos.
1. Skip canned foods and eat fresh vegetables: Processed foods make life easier, but they are extremely bad for your health. Next time you go to Wal-Mart or a departmental store, don't buy processed foods. Buy nutritious food within your budget. Cabbage, sweet potatoes, kale, oatmeal and bananas are inexpensive food items, but they are very good for health.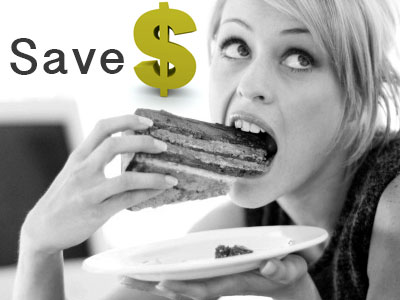 2. Drink plenty of water to keep your body hydrated: Drink water instead of the beverages. Too much caffeine is not good for your health or skin. Drink as much water as you can. This will help you have a radiant skin. You can purchase a gallon of spring water within $1. Just set up a water filter in your kitchen. You can drink pure water as much as you can without splurging.
3. Give up your membership at gym: Are you too tired to go to gym after returning from office? Do you have too much workload at your home and office to hit a gym? If yes, then there is not benefit in being a member of the gym anymore. You're simply wasting your money. Don't renew your membership at the gym. Instead, do some exercises at your home terrace or lawn. Walk a few miles while going to office to shed weight.
4. Don't depend upon supplements to lose weight: You've to put in a lot of effort to become slim and trim. There are no pills that will help you reduce weight while eating junk foods. So, don't buy pills to save money and time. Remember that your body needs to move. You have to move every part of your body. You can't do that while sleeping on your couch. You've to do loads of physical activities.
5. Don't purchase equipment to do exercises: You must have watched several advertisements on exercise equipment while surfing channels in television. You might have purchased one or two tools to get back in shape also. However, do you really use the tools everyday? If no, then what's the point of spending so many dollars on them?
Isometric exercises are very hard for the normal people and they don't need equipment also. You can use soup cans as hand weight. Other than that, you can do advanced exercises with chairs only. If you really need equipment, then purchase cheap exercise bands to make your body flexible.
Talk to your friend about your health resolutions. Your friend can give you an honest feedback about your progress. You can make a few more alternations to your resolutions to achieve your goal by the end of 2013. The best part of discussing your resolutions with your friend is that you can stay motivated to put in more effort to achieve the desired result. Your friend will be your guide and critic simultaneously.