4 Unknown tips to increase your credit score
4 Unknown tips to increase your credit score Do you have a very low credit score? Is your credit score hovering around 450-500? If yes, then you should take active steps to increase it gradually. Otherwise, you won't qualify for any loan in future. Some key tips such as keeping a low credit utilization ratio, managing credit cards responsibly can help you boost your credit score slowly. But are you aware that paying your bill prior to the statement date can help you improve your credit score too? Most likely not! There are several other unknown tips that may help you raise your credit score. Read on to get acquainted with 4 unknown expert tips to increase your credit score.
Tips to boost your credit score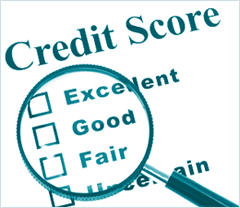 Here are the few unknown tips that may help you boost your credit score:
1. Make periodic payments: Try to make multiple payments on your bills. You should make payments on your bills every week. This will help you lower the credit balance on the bill statement date. In short, it will enable you reduce your credit-utilization ratio and improve your credit score. So, if you make purchases with your credit card everyday, then you must pay the bill by the end of the week.
2. Go for "Pay for Delete" agreement: If your credit account has been assigned to a collection agency, then you can negotiate a pay for delete agreement with them. You can inform the collection agency that that you are ready to pay off the debt in full only on the condition that they would remove the negative item from the credit report. However, you should get the agreement in writing or the collection agency may refuse to delete the item from the credit report after the debt has been fully repaid.
3. Send a Goodwill letter your creditors: Do have only 1-2 negative items on your credit report? If yes, then it is possible to get them removed from your credit report through a Goodwill letter. If you are a responsible consumer who have made 2 late payments on a credit card recently due to some unavoidable circumstances, then you may request your creditors to remove the negative listings purely on goodwill. You can send a Goodwill letter to your lender and request them to delete the bad items from the credit report. Once these listings are wiped out from your credit report, your score will go up. However, if you are always late on your bill payments, then the lenders will not delete the items from your credit report.
4. Avoid short sale: In a short sale, lenders consent to settle the mortgage loan debt for less than the original loan amount. For example, your total loan balance is $350,000. You trade your home for $240,000. This means that the total deficit balance is $110,000. Henceforth, lender will report the deficit amount on your credit report.
The core of the matter is, short sale lowers your credit score by 75-100 points. So, if you are lagging behind your mortgage payments, then you should arrange an alternative payment plan with your lender instead of opting for short sale.
Finally, you should avoid opening several credit accounts simultaneously. If you keep on opening numerous credit accounts every other day, then your credit score may drop by as much as 10 points.