Good Nelly
"O Heavens! I found that my master card has been stolen from my purse when I had gone to a party. Someone took out $500 from it. I found it out when I saw the billing statement. What shall I do now? What shall I do to get out of this whole thing? I am planning to close the account. What else should I do? Any help appreciated"
This is not a stray incident; every minute, nearly 20 people get affected by identity theft. That adds up to 10-million people a year.
Here is a rundown of the steps that you must take if you are a victim of identity theft

Step 1: Place a fraud alert on your credit files and monitor your credit reports regularly.
Contact any of the three consumer reporting companies to place a fraud alert on your credit report, also provide the bureau a 'victim's statement' asking the creditors to notify you before opening any new accounts or changing your existing accounts. This can help prevent an identity crook from opening any new accounts in your name.
To set up a fraud alert you can contact one of the three bureaus and ask them to flag your credit report for fraud. Usually the call is directed to an automated voice response system.
Though the bureau you call is required to share the fraud alert data with the other two, but there have been incidents that show this process does not work so properly. Hence, your best option is to contact each bureau individually to place a fraud alert. Given below are the toll free numbers of the fraud department of the credit bureaus:
Equifax : 1-800-525-6285; P.O. Box 740241, Atlanta, GA 30374-0241
Experian : 1-888-EXPERIAN (397-3742); P.O. Box 9532, Allen, TX 75013
TransUnion : 1-800-680-7289; Fraud Victim Assistance Division, P.O. Box 6790, Fullerton, CA 92834-6790
Once you activate a fraud alert, each of the bureaus will send you a current copy of your credit report by mail. You will be also opted out of pre approved credit card and insurance offers. The reports should arrive in one to two weeks. Once you receive your credit reports, review them carefully.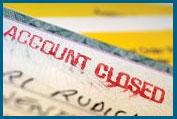 Step 2: Close the accounts that you know, or believe, are not opened by you or have been tampered.
Close all accounts that have been opened or used fraudulently by the identity thief. Request the creditors to report the closed accounts as "account closed at consumer's request," because a simple "closed account" can reflect poorly on your credit report. You must call and speak with the creditors for the accounts that have been opened fraudulently or are fiddled.
Ask each creditor to send you the copies of the transaction records that the identity thief made from your account. The creditors must provide you and your investigating law enforcement agency the requested paperwork and they cannot even impose a charge on offering you the service.
If they do not respond to your request then you must follow up in writing. You might find it hard to get the documents from the creditors, but don't give up. Send your letters by certified mail via RRR so that you can keep document everything that the creditor received and when. Maintain a record of your correspondence and enclosures.

Step 3: File a complaint with the Federal Trade Commission (FTC) .
You can lodge a complaint with the FTC by using the online complaint form; or else you can also call the FTC's Identity Theft Hotline, toll-free: 1-877- 438-4338; TTY: 1-866-653-4261. You can also notify FTC in writing by sending a letter to Identity Theft Clearinghouse, Federal Trade Commission, 600 Pennsylvania Avenue, NW, Washington, DC 20580. If you have to update your complaint, in case you had forgotten to provide some information or have any other additional information then you can call the FTC Identity Theft Hotline.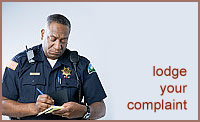 Step 4: Contact your local police or the police in that community where the identity theft took place and lodge a complaint.
Notify your local police department about the crime. You must provide as much proof as you can, it is advisable to give the police department a printed copy of your FTC ID Theft Complaint form, your cover letter, and all other paperwork that support your claims.
Make sure the police report includes all the accounts that have been affected. Get a copy of the report (the police report with your ID Theft Complaint attached) and send it to all the creditors of the affected accounts as a proof of the crime. If you can't get a copy from the police department, at least get the number of the report.

Step 5: Change all your account passwords.
In case of loss or theft of ATM or debit card, then do not use your old PIN for your new card. If an account does not have a password, it is advisable that you add one. Avoid selecting obvious passwords.
1. Guard you SSN 2. Monitor your credit report ...
Date: Sun, 03/05/2006 07:23