Good Nelly
20 Tips To Prevent Identity Theft
Identity theft affects almost 8.4 million Americans each year. Protecting your identity from getting stolen is just as important as protecting your home from getting burgled. This article provides you some of the suggestions that you can follow to safeguard your personally identifiable information.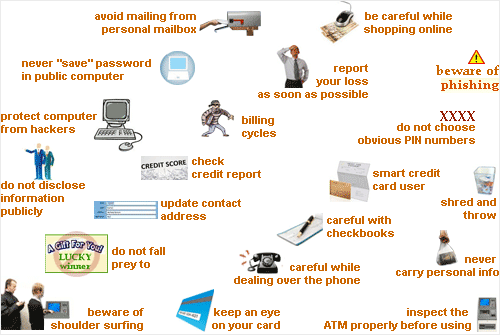 Tip 1: Be cautious of shoulder surfing
While approaching the ATM, writing a check or even filling out an application form, look around whether any one suspicious is lurking nearby or not. While adding your pin stand in front of the ATM to block the view that others might gain. Shoulder surfing can be done from a distance with the help of binoculars, camera or may be a digital recorder. So, in an ATM counter always look around to ensure that no one is recording your transaction.
Tip 2: Do not publicly speak about your sensitive information
Speak quietly over the phone in public if you have to give out any kind of sensitive personal information like your SSN or credit card number.
Tip 3: Inspect the ATM
Only use ATMs that are in properly-lit locations. Before inserting your card, check thoroughly the ATM to see whether there is anything that looks out of place or appears to be tampered with.
Tip 4: Do not fall prey to the "lucky winner scams
You must have received dozens of mails and calls that state that you have been chosen as a lucky winner! All you have to do is give out your personal info like your name, address, credit card number, bank account number so that you can grab your FREE gifts that are worth of thousands of dollars. Doesn't it sound good? But things that look good at the beginning turn ugly when you get aware of the truth. And the truth in this case is such kinds of mails and calls are one of the many ways that the identity crooks use to obtain your sensitive personal information.
Tip 5: Check out the reliability of the company before making any deal over the phone
It is not wise to divulge your personal information to a "cold caller". If you receive such kind of calls where the person at the other end is offering you a tempting deal then it is advisable that you first check the reliability of the company and the caller. As cold calling to get access to bank account details, credit card PIN and other sensitive info is another tactic employed by identity fraudsters. So, do not make hasty decisions and do not give in to high-pressure sales tactics.
Tip 6: Never let your credit card go out of your sight
Always keep an eye on your card as there is always a chance of it being skimmed. In situations where it is not possible to keep a close eye on the card then pay with cash.
Tip 7: Be a smart credit card user
Maintain a record of your credit card charges every month. And when your monthly statement arrives, check the records against the charge activities included in your statement for any discrepancies, erroneous information, or fraudulent activities on your card.
Tip 8: Be careful with checkbooks
Do not write any other information other than your name and address on your checks. Never sign blank checks. Keep a well-organized checkbook so that you can easily notice any checks that are missing or unaccounted for.
Tip 9: Keep your contact address always updated
If you are changing your home then notify your bank and other institutions with which you are doing business about the address change.
Tip 10: Report lost or stolen credit cards and debit cards as soon as possible
The moment you discover that one of your credit cards or debit cards is stolen, contact the issuing bank immediately.
Tip 11: Do not choose obvious passwords or PIN numbers
While choosing your password or PIN don't go for the obvious ones. Your name, your mother's maiden name, telephone number, birthday are all predictable and are easy to find out.
Tip 12: While traveling do not carry items that have your personal information
It is advisable not to carry your passport, Social Security card, health insurance card or birth certificate in your wallet. Also, do not carry dozens of credit cards. It would be wise if you photocopy everything important you carry so that if your wallet gets stolen you can easily cancel things.
Tip 13: Check your credit report carefully
Thoroughly review your credit report (get it free from Annualcreditreport.com or by calling 877-322-8228) at least once a year to look for discrepancies or erroneous information. If you notice anything suspicious then alert the bureau as well as the information provider immediately. You can also avail a credit protection service that will alert you any time a change takes place in your credit report.
Tip 14: Beware of the "phishing" emails
If you receive an e-mail purporting to be from an authentic organization such as your bank or credit card provider or even reputed business entities like AOL, PayPal, Earthlink, Best Buy and eBay that asks you to divulge your usernames, passwords, SSN, bank account and credit card details in a direct or indirect manner then do not reply.
Tip 15: Be careful what you throw away in your trash
Before throwing the documents that contain sensitive information into the trash it is suggested that you shred them.
Tip 16: Keep a close watch on your billing cycles
Follow up with your creditors if your monthly statements and bills don't arrive on time. A lost credit card bill might indicate that an identity crook has changed the billing address and is using your identity.
Tip 17: Do not mail bills or documents that include sensitive personal information (like tax forms or checks) from your personal mail box
It's a two minutes job for an identity thief to take mail out of your mailbox on the street. Thus, it is better to personally take the important documents to the post office or an official postal service mailbox.
Tip 18: Protect your computer from hackers
Make sure you have the latest updated version of anti-virus software that includes spy ware, personal firewall, anti key loggers, anti hacker tools and spam filter.
Tip 19: Always type the URL address manually while shopping online
It is often noticed that identity crooks put up sites that resemble popular shopping websites to get bank account numbers and credit card information from the customers when they try to place an order. Thus, it is advisable to type the URL manually when you are shopping online.
Tip 20: Do not click on "save" password while using public computers
When you are accessing banking details or checking your mails from a computer that is used by other people, ensure that you are not saving the password, as any other user can gain access.
Help I had my identity stolen online. A company ca...
Date: Thu, 03/06/2008 10:14