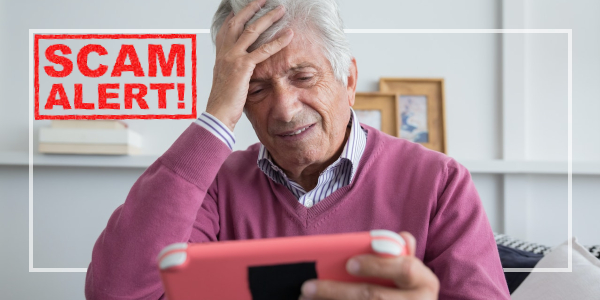 Every year, scammers prey on people, especially seniors, to steal their money and sensitive personal data. According to the FBI, seniors lose more than $3 billion annually to fraud. If you haven't already been the target of a scam, you might in the upcoming years.
In many cases, family members, particularly those who look after the elderly, are even responsible for the attack. Scammers use particular scam methods to lure different people. Unfortunately, few people doubt this fact and wonder why the elderly are the target of retirement scams in the first place.
Why do retirees fall for retirement scams and fraudulent activities?
According to several experts, seniors' increased loneliness and isolation may make them more vulnerable to scam artists. Others speculate that elders may be more prone to believe ludicrous claims due to some degree of cognitive decline.
Gerontologists and crime experts think that the elderly are more prone to become scam victims. Many have thought this is due to cognitive decline and that retired persons frequently have ample retirement savings, assets, and free time. However, according to recent studies, older adults' sensitivity may have more to do with how their brains perceive visual information.
Seniors' sense of financial insecurity is another factor in why they fall for these scams. The idea that all may be lost and that what they have today might not be enough tomorrow had an enduring impression on their thinking. Whether true or not, it encourages people to give in to the temptation to make a lot of quick money.
Maybe a little greed is also a factor. Even those who are generally wealthy can become victims of con artists for any of these reasons or a combination. When faulty judgment and strong emotions are present, intelligence, education, and financial training don't work. Anyone, for any reason, may become a victim of a professional criminal.
As a result, scammers target seniors with their retirement savings, assets, and income. Therefore, it is imperative to safeguard your assets by averting a financial scam that would be difficult for you to address in the future.
The top scams that aim to prey on retirees are listed below.
Common retirement scams that target seniors
1. Investment scams to wipe out retirement savings
Con artists use various unethical scams to commit investment fraud, such as affinity and pump-and-dump schemes, to steal money.
Even seasoned investors can be duped by a scheme like promissory note fraud, in which one party delivers a sum of money in exchange for a written contract. The contract obligates the other to make a larger payment (principal plus interest) on a particular date.
The person signing the promissory note will not always fulfill their responsibilities, and they might vanish with the money. It's another reason to only work with renowned, certified experts with many reliable references.
Lukasz Zelezny, SEO Consultant, SEO Consultant London, added his views on investment scams - "It's essential to be cautious of any investment opportunity that seems too good to be accurate and to thoroughly research any investment before handing over your money. Additionally, it's always a good idea to consult a financial advisor or attorney before making any significant financial decisions, such as investing in a retirement plan".
2. Phishing emails to hack your bank account
Anyone could become a victim of a phishing email. Someone sends you an email that appears to be from an official source asking you to do something to keep your account in good standing. This scam is straightforward yet deceptively successful.
A typical scam involves receiving an email that appears to be from your bank or Internal revenue service requesting you to confirm certain personal information. The email also includes a helpful link that, when clicked, directs you to a website that closely resembles your bank's actual site.
Erik Pham, CEO of Health Canal, added - "This type of scam relies on fraudulent emails or phone calls, which appear to come from a legitimate source, such as an official government agency, bank, or financial institution."
You enter your login details on the false website by clicking the link and eventually divulge sensitive personal data. Now that the scammer has complete access to your account, they can easily withdraw or transfer the money.
Erik also noted - "Be wary of any requests for personal information, and never give out this type of information unless you are absolutely sure the source is legitimate. Contact the appropriate government agency or financial institution directly if you suspect a scam".
Never click a link that redirects you other than your bank's actual site.
3. Pyramid schemes to snatch social security money
There are many ways unethical scammers scheme to a pyramid scheme based on a business or a company, which relies on a continuous flow of new members whose "investments" are subsequently used to reimburse previous joiners. Quick money is often offered, which is much more tempting for many seniors.
Products from businesses posing as multi-level marketing companies are offered in different pyramid schemes. Victims are told they may quickly make money by selling in a person's "downline." So they invest their retirement savings or social security money into that business.
Traditional pyramid schemes will eventually fail when not enough new members are brought in more money to pay for financial obligations to all existing members.
4. Charity Scams for retired seniors
Con artists may call you after a natural disaster strikes your area and begs for money. They may provide details about fake charities trying to help the victims by providing free health-related supplies to that area. A person from those fake charities may frequently ask for the information on your account or credit card so they may access your money. They may even provide a fake site to the retirees to disclose personal information to keep records of the donation.
Never agree to a donation to such fake charities over the phone or email. Instead, research that charity and find a phone number to call if you want to donate.
5. Home improvement and repair scams for elderly
Financial professionals suggest seniors be cautious if they encounter strangers they have never met at their doorstep. Con artists may come to retired and older people on behalf of reputable home repair companies and promise to fix something or improve their houses. This is definitely a sign of home repair scams.
Victims must pay a portion of the cost upfront in scams involving home improvement and repair. Workers leave the job unfinished, incomplete, or never begin and then vanish with the money.
Usually, reputable home repair companies don't offer door-to-door services. So, fraud experts recommend checking, verifying, and always asking for local recommendations before letting an unknown service person into your home.
6. Insurance and Medicare scams targeting seniors
You may get a call or email from someone identifying as a Medicare or insurance company representative. Then, it would be pretty simple for that person to ask for your personal information, and that information can be used against you. You'll become a victim of Medicare scams and Identity theft.
Tiffany Homan, COO of Texas Divorce Laws, added - "This is when someone steals your personal information and uses it to open up credit cards or loans in your name, or even take out mortgages on your house or make transactions in your name."
Alternatively, they can promise to send you free medical supplies via mail in exchange for your credit card information to cover shipping and handling costs.
It is pretty impossible to stop the harmful effects once you divulge sensitive personal info to someone with criminal intentions. Make it a strict rule that you will never share information such as Social Security numbers, bank account numbers, or other identifying information with anyone over the phone or in person you don't know personally. Tiffany also suggested - "Keep regular checks on your credit report to make sure that there are no unauthorized accounts or loans opened in your name."
7. Government Imposter Scams to drain your retirement funds
You can get calls from individuals posing as representatives of the IRS or the Social Security Administration, demanding quick payment of back taxes or requesting personal data to continue receiving Social Security or Medicare payments.
The con artist may be employing a method known as spoofing, which makes the incoming phone number seem authentic. The caller will probably demand that you provide information or make a payment, which may need to be made using a gift card.
You might face multiple scam attempts like this one, so be very alert.
8. Grandparent scams towards retired seniors
Grandparent scams are the most despicable of all the scams that target retirees. This fraud takes advantage of grandparents' inherent love and cares for their grandkids.
A grandparent scam usually begins with the target getting a late-night phone call from a young person falsely claiming to be a grandkid in distress. For instance, they can state that they were abducted or wrongly detained and ask the grandparent to give a sizable sum of money to help them (sometimes in cash, sometimes as a wire transfer, and sometimes in the form of gift cards). The retired elderly have no other option but to send the money to an unknown person at a particular time and location.
Most of the time, the late-night call and high-stress environment can confuse the poor grandparents, and they can not identify the grandparent scam practice. Without any suspicion, they listen to the young person falsely claiming to be a grandkid. However, all that truth gets revealed eventually after transferring the money to that unknown person. It was too late for the retired person to repent for their foolishness. So, be alert for grandparent scams, and do not transfer money without discussing your family.
9. Funeral Scams on a friend's or relative's demise
After a loved one passes away, you can receive a call from a scammer demanding payment for a debt they claim your deceased friend or relative left behind if you post an obituary in a local newspaper.
These are one of the most unique senior targeting scams. The fraudster can show up at the burial service to learn more about you and your deceased friend/relative before requesting more money to settle a debt.
You can receive a call from someone pretending to be from the funeral home, telling you that additional fees haven't been paid yet.
Refuse to give money immediately if they fail to provide documented proof of the expense.
10. The most common Internal Revenue Service scams
One of the most prevalent identity theft variations of IRS scams asks the victim to "confirm" (i.e., submit) their personally identifying information, such as their complete name, birthday, and social security or taxpayer identification number. The caller or emailer claims to be an IRS agent.
That provides the con artist everything they need to steal the victim's identity and make large purchases on brand-new credit card accounts without the victim ever knowing until they check their credit report.
11. The jury duty scam calls
You can receive jury duty scam calls or emails warning you that you're in serious trouble for disregarding a jury summons you never got. In addition, you can prevent prosecution by paying a fine right now via bank transfer or credit card.
The caller or sender could also force you to reveal sensitive personal information so they can steal your identity. No federal court system in the United States will ever demand that you pay fines or provide personal information in this way.
12. Debt collection scam calls
The con artists may also initiate false debt collection scams through similar methods. Victims start receiving dunning letters from fake debt collection companies on false debts. These scammers do not provide debt validation letters. Instead, they try to collect money forcefully. The fake debt collection companies use vile language and abusive emails to retired persons and threaten them severely. To avoid the harassment caused by a false debt collection scam, seniors make the payment to handle these debt collectors and later realize it was a fraud activity.
13. The utility company scam
The overdue utility scam is a different version of a false debt collection fraud. Here the scammers will target a retired person and make a high-pressure phone call or meet directly. They represent themselves as a utility company employee and threaten the old individual to immediately cut off power if the person does not pay a lump sum past-due amount.
By manipulating the phone's caller ID function, they might even misguide you that you are communicating with a real company and a genuine utility company employee threatening you for real.
The ideal thing you may do is to disconnect the phone call immediately. You may also cancel any visit they want to make and call the customer service line of your actual utility company yourself and verify your previous bills, along with the current outstanding bill.
14. Lottery scams and sweepstakes scams
Be alert if you receive a call congratulating you on your recent lottery or sweepstakes win but can't remember ever entering the contest.
You might even receive a check in the mail for your winnings, but the chances are that your bank won't accept it. You might have to pay fees or even taxes on top of that loss. You might also be asked to give your credit card number to pay some processing fees or taxes upfront.
Practically, genuine sweepstakes operate differently, and they do not need your credit card details to give you the money. So beware of lottery scams and other scam attempts.
15. Reverse Mortgage Scams for seniors
A person or company may contact retired persons to offer a reverse mortgage loan so the senior individual can access some of the home equity. They can offer to evaluate the house for a fee and provide a false estimation of the house. They also push to sign the fake loan agreement.
Retirees should never give information about the house or make a payment toward a reverse mortgage in response to any demands. Talk to a popular local lender or financial advisor if you need to.
16. Fake products for well-being and health
Through TV or the internet, retired older people may know about various health and wellness products. Some of them are too good, and some of them are false hope. But there is a third category where people sell scams. Those con artists sell fake anti-aging skin care products to fake medicines. In addition to that, they offer heavy discounts on those products.
If someone orders something from these sellers, they will send shipments of these fraudulent goods along with large shipping and handling fees. It is better to avoid such promotional tricks and those fake products and always buy original goods from genuine companies.
17. Love phishing or romance Scams
If you join an online dating site, you can get contacted by callers/members who want to start a relationship. The con artist will ask for money after you speak on the phone or begin dating to cover their utility bill, a parking ticket, a home repair, or some other expense. It is called romance scams or love phishing.
So, before getting into a serious relationship, research the person you are talking with. It might happen that the person is hiding his/her true intentions, which involve money, behind their fake profiles.
If you're confused, ignore any requests that may incur a financial loss.
18. High-Interest pension advances
One scam to look out for during retirement is the "pension advance" scam. This is where a company offers to give you a lump sum of cash for a portion of your future pension payments.
The company will typically charge high fees and interest rates, which can end up costing you a significant portion of your pension. As per Travis Lindemoen, Managing Director, nexus IT group, it is important to be wary of any offers that seem too good to be true and to thoroughly research any company before agreeing to any deals involving your pension.
19. False Social Security Calls
Scammers target at-risk groups and are counting on individuals not being technologically savvy; unfortunately, they commonly target those reaching retirement.
Bill Lyons, CEO of Griffin Funding, elaborates that some scams may be more obvious than others, but one of the most common would be false social security calls. These calls create a sense of urgency by either warning of an overdue bill, balance, legal issue, or whatever they can say to get you to hand over your information.
He also said the administration would not ask you for any payment over the phone or by text. They'll either send you mail or request it through their official websites. You can also create an account online with the SSA to help you stay informed about social security benefits and track activity under your SSN.
20. Social Media payment advance requests
Upon your retirement, you probably hang out more often on social media platforms, wanting to stay updated with your family and friends or looking for entertainment to pass the time.
However, as per Aidan Kang, CEO of House of Debt, social media is rife with scammers targeting the elderly, who aren't tech-savvy. They may trick you into sending them advanced fee payments for something you wanted to buy (but you'll get no product), paying them for cheap travel deals that aren't real, or signing up for phony investments or job opportunities.
The key here is to not entertain unsolicited messages from pages or people you don't know, especially those that ask for money. If you must do transactions over social media, always ensure that you're dealing with verified businesses and individuals. Without proper information, you might fall into a trap and lose valuable assets.
How to avoid retirement scams as per financial professionals?
If you look closely, each particular scam is unique, including grandparent scams, reverse mortgage scams, utility scams, investment frauds, Medicare scams, IRS impersonation scams, charity scams, etc. However, the details might vary, considering the scenario. However, there are a few telltale signs of scams that target seniors. People should be aware of them and avoid frauds or scams to save their retirement savings.
Tips to avoid retirement scams
Watch for unexpected calls and emails, and do not click on suspicious links. Block promotional calls if needed.
Don't make any purchases over the phone call.
Don't rush things; avoid a "last-chance deal" or other urges to decide immediately.
Give it some time before making a purchase, and consult a financial advisor or your family.
Beware of people claiming to be from Medicare, Social Security, or any other government organization.
Save all paperwork, and make notes of what you need and don't need.
Keep all documentation you get from the insurance provider.
Note the names of the people you speak with and the specifics of your interactions.
Verify a company before providing any personal information.
With proper help you can
Lower your monthly payments
Reduce credit card interest rates
Waive late fees
Reduce collection calls
Avoid bankruptcy
Have only one monthly payment
Get Debt Relief Now
How much debt consolidation can save you