You can choose a suitable debt relief option amongst several strategies if you're worried about paying back your credit cards and other unsecured bills. Have a look at the professional debt relief options along with DIY strategies to bring your financial life back in order.
Debt relief options - What you can expect and when to opt for one
Check out the pros and cons of each of these debt relief options. It will help you choose your preferred one. Also know when you should opt for any of these debt relief strategies.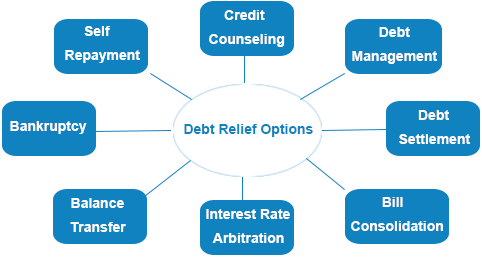 Credit Counseling
In a credit counseling session, the counselor analyzes your financial condition and offers suitable tips or suggestions following which you can repay your existing dues.
What to expect:
Pros
Customized money management plan to manage your debts properly
You can pay back creditors through easy repayment plans
You can figure out whether or not you're spending more
Cons
May worsen your financial situation if you cannot avoid impulsive spending
When to opt for
To manage your existing debts smartly
You need help to plan a realistic budget
Want to manage debts properly to improve your credit score
Debt Management
In a debt management program, the counselors of the debt relief USA companies negotiate with your creditors for a repayment plan as per your budget. You need to make a single monthly payment to the counselors, who distribute the amount amongst your creditors. This continues till you get out of debt.
What to expect:
Pros
Reduced interest rate on debts
A budget plan to save money
Single monthly payment
Possibility of less collection calls
Positive effect on credit report and score
Cons
Have to pay fees for professional service
When to opt for
You're facing problems to manage your multiple bills
You need professional guidance
You have a decent income to repay your debt
You want to repay debts in full
Debt Settlement
A debt settlement program is a debt relief program which helps to reduce the outstanding balance on your bills/debts. The representative from settlement company negotiates with your creditors and/or collection agencies to reduce the payoff amount so that you can get rid of debts through a lump sum payment on each account.
What to expect:
Pros
You can get rid of debt quickly
Possibility of creditors/collection agencies will stop harassing you
Become debt free through single monthly payments
Cons
Need to pay professional fees
Credit score may get reduced
May have to pay tax on forgiven debt
When to opt for
You cannot repay your debts in full
You want to get rid of your debts fast
You can't negotiate with your creditors on your own
Your financial situation doesn't permit to repay debts in full
Bill Consolidation
When you enroll in a bill/debt consolidation program with a debt relief USA company, it analyzes your financial situation and decides upon an affordable monthly payment which you need to pay to the company. It also negotiates with your creditors to reduce the interest rates on your debts. Upon receiving payment, the consolidation company distributes it amongst your creditors as per agreement, till your dues are paid off.
What to expect:
Pros
Single payment every month
Interest rates may get reduced
Complete professional guidance to pay back dues
Credit score may get improved
Creditors may stop troubling you for payments
Cons
Need to pay professional fees
When to opt for
Failed to repay outstanding dues on your own
You can save a certain amount after meeting daily necessities
You're not able to manage your multiple bills properly
Professional guidance can help you manage your financial obligations
Interest Rate Arbitration
You take out a secured loan from a lender or a financial institution at relatively low interest rate and repay your outstanding dues with the amount. Then, you repay the new loan, which is a type of debt consolidation loan, through lower monthly payments.
What to expect:
Pros
You can repay your total outstanding balance at once
You replace your high interest debts with a comparatively low interest loan
You have to make only a single monthly payment
Cons
May lose collateral if you cannot repay the loan on time
When to opt for
You have collateral to pledge in order to obtain a loan
You are confident to make the monthly payments to repay the new loan on time
Want to lower your interest rates
Want to repay bills through low monthly payment
Balance Transfer
When you opt for balance transfer method, with your creditors' approval, you actually transfer your high interest bills to a relatively low interest card with sufficient credit limit. Thus, you repay your outstanding dues at a reduced rate of interest.
What to expect:
Pros
Replace multiple credit cards with a single one
Pay off outstanding credit card dues at relatively low interest rate
Can save the money which you'd have to pay if you opt for professional help
Cons
May fall into debt again if you start using high interest credit cards and not repay dues in every billing cycle
When to opt for
You're struggling to manage your high interest credit card bills
Facing difficulty in remembering due dates of multiple credit cards
You want to repay debt without any professional help
Bankruptcy
In this debt relief option, you repay your debts through a court monitored repayment plan. You can pay back your creditors through either Chapter 7 or Chapter 13 bankruptcy, depending upon which one you qualify for.
What to expect:
Pros
Creditors and collection agencies will not contact you for payments
In Chapter 7 bankruptcy, you can become debt free within 3-4 months
It will put stay on impending lawsuits
Your creditors will not be able to garnish your wage
Cons
Your credit score will get reduced by about 200 points depending upon your present score
When to opt for
You want to make a fresh financial start
This is your last option to get rid of your financial obligations
Self Repayment Plan
This is where you repay your debts on your own following the basic financial principles such as budgeting, saving along with reducing irrelevant expenditures.
What to expect:
Pros
Don't have to pay professional fees
Can avoid being scammed by imposters posing as professionals
Positive impact on credit report after paying off debt
Cons
Cannot be successful if cannot plan a budget or if you spend extravagantly
When to opt for
You're good at planning a realistic budget and following it
You are confident to repay debts on your own
You are late on your monthly payments
You can convince your creditors for an alternative payment plan
Debt Relief Options - Types of bills you can repay
Unsecured bills such as:

1

Debts incurred through medical treatment

2

Bills acquired through cash advance loans

3

Debts assigned to collection agencies

4

Bills accumulated through credit card purchases

5

Debts accrued through utility services
Debt Relief Companies - How to find a reliable one
Check out company accreditations
Before taking help from a debt relief USA company, check out whether the company is certified by
IAPDA
and
TASC
, to be sure that it's a reliable organization to work with.
Go through the client testimonials
When you are looking for credit card debt relief services or repay other debts through professional help, make sure that the customers are satisfied with the services offered as promised.
Check out the service background
Look for the profile along with the track record of the
debt relief USA companies
you plan to work with.
Compare the fee structure
Shop around and compare the professional fees you've to pay and the services offered, in order to choose the most suitable one.
Debt Relief Act - 6 Facts you must know
Before you decide to work with a debt relief company for credit card debt relief and other bill repayment strategies, check out the rules and regulations in the Debt Relief Act. Being aware will help you avoid getting scammed.
The companies can't ask consumers to pay an upfront fee verbally or in writing
The companies can't make false promises to the consumers
The companies have to inform consumers about the tenure and different aspects of the programs
The companies can charge fees after negotiating/reducing/settling debt
The consumers need to pay fee and save money in a dedicated account
The consumers will have full access to the account