How to avoid holiday debt hangover and protect your credit score: 9 Tips
How to avoid holiday debt hangover and protect your credit score: 9 Tips
Let not the holiday spending mess up your credit score. You just need to be financially prepared beforehand and make wise monetary decisions instead of committing blunders.
It is essential to maintain your credit score during this pandemic situation when the economy is down and the experts are predicting a recession.
You may need to take out a loan from time to time. A good credit score can help you take out a loan at suitable terms and conditions even during a recession.
Therefore, let's discuss the risks associated with enjoying the holidays on credit and how to protect your credit score during this season.
Know the risks associated with celebrating the holidays on credit
Covering all the extra costs by using credit cards may raise financial problems. However, if you pay off the balance within that time, then it is fine.
Some people spend mindlessly. They start ignoring their financial ability and spend beyond their means. If you keep a mindset of "I will pay off the bills later" and fail to remember the date of payments, soon you will fall into debt and your credit score will take a significant dip.
Some people are even unaware of the interest rate of their credit cards.
For instance:
If you are using a relatively higher interest credit card, then you may accrue high-interest charges that you haven't thought of if you don't repay your bills within the billing cycle.
Make sure you don't miss any future payment; otherwise, your impulsive shopping in the festive season can cost you dearly.
Before you know how to protect your credit score during the holidays, you need to know where you're standing now.
Know what your credit score is
Have a look at your credit score prior to joining the shopping bandwagon in the holiday season. Your current credit score can tell you how many purchases you should make through credit cards.
Apart from that, if you're thinking of obtaining a home loan or a credit card during the holiday season, then your score can instigate you to remove the negative items from the credit report. A slight difference in your score can make a big difference to the interest rates charged on the loan.
Apart from that, if you're thinking of obtaining a home loan or a credit card during the holiday season, then your score can instigate you to remove the negative items from the credit report. A slight difference in your score can make a big difference to the interest rates charged on the loan.
8 Tips to indulge in holiday spending without hitting credit score
Try to play a safe game. Enjoy Christmas and New Year without inviting financial problems.
Here are a few tips to safeguard your credit score while celebrating the holidays.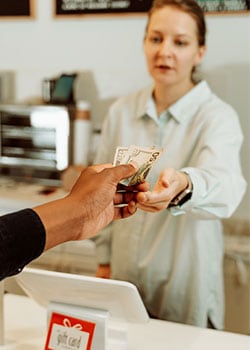 1. Say "no" to new store credit cards
Store credit cards are enticing during the holidays for their special offers and discounts. But obtaining a new store card just before the holiday season can hit your credit score. It is because there will be a hard inquiry on your credit reports that can dent your score a bit. However, the hit will be temporary if you're taking out a one-store credit card.
2. Stay within your credit limit
You may feel like purchasing all the items from the store during the holiday season. You can purchase the items just by charging your credit card. However, unwise use of credit cards can jeopardize your credit score. Once you cross the credit limit, your credit score takes a toll. Your credit score will drop by several points and the lenders will start looking at you as a financially unstable person.
Before you hit the store, consider checking your credit card information, including your current interest rate, and the balance you haven't paid yet.
Remember, the closer your balance is to the credit limit, the worse your credit score is.
For instance:
Having a balance of $800 on a card with a $9000 limit will affect the credit rating less than having a balance of $800 on a card with an $1100 credit limit. You shouldn't exceed 30% of your credit limit; otherwise, your credit score may drop.
In case you owe a certain amount and continue shopping on that card, your credit score may take a dip.
If you want to use your credit cards for making the purchases, then start reducing the outstanding balances beforehand. This will help you in creating a space for holiday purchases.
You can use a calculator to compute your credit utilization ratio. Keep in mind that this ratio constitutes about 35% of your credit score.
3. Set up spending limit alert
Contact your bank and set up a spending limit on your plastic cards. This will help you not stray away from your holiday budget.
You'll get an email as soon as you're at the threshold of the spending limit. Banks/credit card companies will not permit you to charge your credit cards after reaching the spending limit.
Al already mentioned, one effective way to avoid reaching the spending limit is to use a prepaid or debit card for purchasing a few items. The best part of these cards is that you can't overspend. This way, you can stay within your holiday spending budget.
Finally, if you get one, you can secure a new credit card with 0% or low APR during the festive season. You can use this card for your holiday shopping. You can pay off the balance after making your purchases and save on the interest. Keep in mind that the 0% interest rate will be waived off if you miss payments. So try to avoid missing any payments. Also, make sure you pay off the balance within the introductory period. The interest rate may double after that period.
4. Create a holiday budget plan
Remember, holiday expenses are extra; but, you have to meet daily necessities, too.
For example, you can't ignore your utility bills to buy Christmas gifts during this season.
So, review your current budget and reduce expenses that are not necessary for the time being. Prepare a budget to include holiday expenses like gifting, throwing a party, vacationing, and so on.
Make sure you shop as per your budget and stick to it. Thus, you can make your dear ones happy during the festive season and your credit score will thank you, too.
A piece of advice. Calculate how much you spend during your holidays and divide that amount by 12. Include this amount in your monthly budget. You can set a separate savings account to save the required amount over 12 months. Next year, you won't feel the pressure in your budget for your holiday expenses.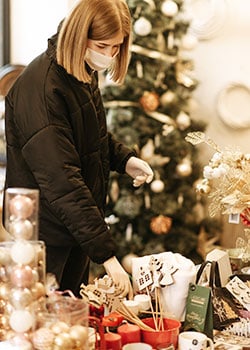 5. Be an early bird
Don't rely on a store credit card or upcoming discounts. Set aside some money for Christmas spending beforehand. Some extra cash will give you extra happiness during the holiday season.
6. Pay off your past dues
Pay off all your outstanding balances as soon as possible; otherwise, you have to pay more interest. Also, don't miss a single payment on a credit card, your credit score will get a major hit. At least try to make the minimum payments on your card to avoid being a default. And, if you're facing problems repaying your bills or getting into holiday debt, you can always use professional help to repay your bills.
7. Avoid payday loan trap
Taking out a payday loan may be an attractive option to fund holiday expenses. But its higher interest rates can harm your credit score if you can't repay them on time. If you fail to pay it off, you can be considered a risky borrower by lenders and creditors.
8. Be aware of holiday identity theft
The identity theft rate in the country is quite high. Several instances reveal that it increases during this time. Hackers and scammers can easily steal your identity. One of the major reasons is, surfing endless shopping websites without knowing the risks associated with it. Some websites are not authentic and can easily reveal your payment information to scammers. Identity theft can affect your credit score badly.
While checking your credit reports (as already mentioned it's a must before you start shopping for holidays), look carefully and spot the suspicious items in your credit report.
The identity thieves lookout for fresh victims during the festive season. So, take special measures during the festive season to avoid being a victim of identity theft. Log in to your credit card account and check your online statements. Find out if there has been any unusual activity in the past few days. If you think that any unauthorized financial transaction has taken place, then call the credit card company and report the matter to them.
It's advisable to shop from websites that are secure.
For example:
https:// www xyz(dot)com/ = secured
http:// www xyz(dot)com/ = unsecured
Finally, think out of the box; no one tells you to give an expensive gift or throw a luxurious party during Christmas or new year. Give priority to your budget and other necessary expenses, especially this year. Make others happy by staying within your means. Thus, you'll not mess with your financial life. Your dear ones will be happy and so will your wallet and credit score.
9. Activate certain security features
You can activate online or use an app to on-off switch your cards when you're not using them during this holiday season. Also, set up alerts and notifications for a big transaction. It won't happen unless you approve it.
Make sure you inform your credit card company if you're going on a vacation and plan to use one of your credit cards there. This will help credit companies spot any fraudulent transactions along with making your payment process smooth without any hassle.
Another way to avoid fraudulent activities is to use virtual cards for shopping online. You can opt for such a temporary virtual card if your credit card companies are offering such a facility. By doing so, your credit card number will stay safe.
Don't worry since you may not be able to celebrate your holidays like in other years. You can have a double celebration next year. Start saving from now on.
Happy holidays and Happy New Year !