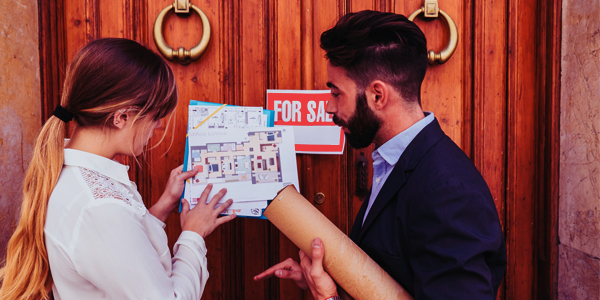 The process of buying a new house or selling it is lengthy and arduous in general. Since closing a home purchase will probably be one of your most significant transactions, take measures to do it right. For that, it is useful to take the professional help of real estate agents.
But selecting the right expert to plan your real estate contract perfectly with a high-value outcome is vital. How do you make that choice?
Let's delve into it.
Real estate agents- Who are they?
The real estate professional field has a hierarchy of sorts- from salesman to realtors. The term "Real estate agent" can indicate all of these designations. Yet, it is essential to mention that real estate agents mainly refer to specific professionals in the real estate industry.
Typically, the salespeople at the starting level of real estate transaction processes are called real estate agents. They are licensed professionals representing both sellers and buyers or one of the specific groups.
These agents undergo various hours of classes on real estate law, property taxes, title insurance, and such topics. Then they pass a board-certified examination to get the license to practice this profession.
Real Estate Agent- Salient Roles and Responsibilities
Remembering that specific roles can shift as per the state laws and licensing reciprocity rules is crucial.
For example, Kansas includes the requirement under the real estate commission that agents should have attended a 30-hour course for licensing. Some states, like Alaska, only accept license reciprocity via endorsement. On the other hand, others allow selective reciprocity, as Kentucky does since their 2019 rule amendment.
The primary responsibilities of real estate agents typically include:
Providing professional counsel to both the buyer and the seller with marketing conditions, common contingencies with most home sales, etc.

Generating property sale leads.

Arranging home inspections, house tours, and other meetings.

Managing the MLS listings across different marketing platforms, like online catalogs, real estate sites, etc.

Arranging categorical listings for properties by client criteria.

Interviewing the possible buyers or sellers for their respective clients.

Visiting the property site with both the buyer and seller.

Negotiating terms with the opposite party in the real estate transaction.

Preparing purchase documents and contracts after complete verification.

Helping the client handle their mortgage approval process after connecting them to a vetted lender.
It is important to note that the overall duties of a real estate agent can change depending on who they are representing. So, you should understand these types specifically.
Types of real estate agents and their specific roles
The types of real estate agents are further categorized into three groups:
Buyer's Agent
The buyer's agent is a professional from a real estate company that represents the home buyer. They guide their client through home sales, like evaluating offers, checking the properties, etc. The buyer's agent helps buyers decide on the home's purchase price with the seller, including the earnest money to put in for the deal.
If the time period of the home search process is extensive, these agents can ask for you to sign a documented real estate purchase agreement. Most of these professionals do not insist their clients sign exclusive contracts until the first offer submission. So, you can consult with multiple buyer's agents before making a final choice.
Regarding the typical agent commissions for buyer's agents, they charge around 2.5-3% of the closing costs.
Responsibilities of buyer's agent:
They support home buyers with property searching for a purchase.

These professionals will conduct full financial auditing for potential buyers to ensure they are ready to purchase a home.

The buyer's agent will help you plan how much earnest money to provide to the sellers in good faith.

They will attend home tours with the client.

The buyer's agents support their clients with complete paperwork.

After checking the expected purchase price and property details, they submit proposals.

They discuss with the seller's side to decide closing costs, mortgage rates (if applicable), etc.
Seller's Agent or Listing Agent
The seller's agent or listing agent works for those who want to sell their property; they represent them legally.
Professionally, the selling agent will help negotiate the real estate contract, prepare the current home for the market, and plan the closing costs. The average commission rates for selling agents are around 3% of the real estate purchase agreement and services.
Responsibilities of the seller's agent:
They prepare the marketing materials for the home sale.

The listing agents check and recommend repair or improvement suggestions after a thorough home inspection.

They verify the land and property value to determine profitable offers.

These professionals help with the term negotiation process.

They coordinate professional photography sessions for house sale marketing.

These professionals screen the buyers in detail.

They verify multiple home sale offers in the market after value-based comparison before the closing date.

The seller's agent will manage open houses and coordinate property showings.

They prepare the entire listing agreement as per negotiations.
Dual Agent
This type of real estate agent works for a dual agency. In the traditional sale process of any property, a dual agent represents both buyer and seller in one deal. Buyers and sellers can approach an accredited dual agency for their online property listing.
Hiring one is enough since this real estate agent can handle both positions. The seller can avoid paying for the agent's commission on the buyer's side or pay a reduced amount.
However, there is a high-risk potential in hiring estate agents from a dual agency. Some states like Florida, Colorado, Alaska, and Kansas have strict restrictions on dual agency-based real estate transactions.
Besides that, the dual agent will represent both sides. This can complicate the deal due to a possible conflict of interest.
Real Estate Commission - How do they earn money?
A seller's or buyer's real estate agent will typically earn money in the form of a real estate commission. After they complete a real estate purchase agreement, the agents earn a commission on the home's sale price for their client. The sellers are the ones who make this payment, which is why the commission is typically counted against the selling price.
However, this is a controversial statement since buyers also contribute to closing costs. So, the buyers are the ones who indirectly pay the Real estate agent fees.
The average total commission ranges between 2-6% of the home's sale price for real estate agents involved in one deal. Statistically, the average fee for these agents in New York is 6%, though this can differ per case. The buyer and seller's agents take equal parts of the transaction amount.
To give an example, let's say the sales price of a property in South Carolina is around $500,000. As per statistics, this state's average real estate commission is around 5.63%.
Typically, the sellers cover the full commission fees from closing costs in South Carolina. So, the listing agent and buyer's agent will get an average of 2.82% and 2.81% commission rates.
Real Estate Agents vs. Brokers vs Realtors- Are they the same?
While the "Real estate agent" term can cover both real estate salespeople and real estate brokers, they are different groups. As mentioned, real estate agents help with the buying and selling process of a house for customers. They get the license after attending hours of training.
Notably, most states have prerequisites for people opting for pre-licensing courses in real estate. For example, Texas allows people with 18 hours of training to apply for a real estate agent licensing examination.
Professionally, real estate agents help people with real estate property transactions. They stage and host open houses, meet clients (potential buyers for the sellers and vice versa), etc. They also set appropriate listing prices after evaluation. Essentially, they provide all types of expertise to the home seller or buyer they work for.
What is a real estate broker?
On the other hand, real estate brokers are real estate professionals with more experience. Agents can apply to become a broker after three years of practical work experience. They must also take another licensing examination to qualify as a broker. In this context, different states have varying qualifiers for acceptance.
Unlike real estate agents, they can independently manage personalized workloads. Or, they can own and control their own real estate brokerage firm. Real estate agents work under them in these firms.
"Every realtor is a real estate agent but not every real estate agent is a realtor"- what does it mean?
One standard error many people are guilty of is confusing the term realtor with the real estate agent. While they sound similar, there are some noticeable differences.
The most notable is that the real estate agents get licensing per state regulations. On the other hand, realtors have to undergo specialized training and become accredited NAR (National Association of Realtors) members. The realtors have to follow the guidelines in the Realtor Code of Ethics. This is further divided into 17 Articles or Standards of Practice.
Essential factors to consider when selecting a real estate agent
When you are looking to hire a real estate agent, there are some things you should consider. These include both the real estate agent specifically and your situation. The following are the primary factors to prioritize here.
Experience level

It would help if you went through their portfolio to see the usual clientele they handle and the types of deals they are closed. An experienced agent who has taken many house sales will have more knowledge of real estate industry trends, state-centric real estate laws, etc.

Jonah Hajji, CEO and Founder of UpperKey, says, "Prioritize agents with strong negotiation skills to secure favorable rental terms and agreements. Effective marketing strategies are also essential to attract high-quality tenants promptly."

Profession-centric and Soft Skills

Consider the professional capability of the real estate agents you are considering first. In this context, you should check their credentials, like their real estate license. People have to follow state-centric regulations when training for real estate licenses.

For example, California requires applicants to get 45 hours of course training in DRE-approved education. Within this specified time period, one must acquire credits in consumer protection-related courses for at least 18 hours, etc. On the other hand, Florida requires an overall 14 hours of pre-license training for people aspiring to become real estate agents. Many online courses are available for this from reputed institutions.

Besides the course completion degree and other documents, good agents should also have soft skills. You should check if they have quick and creative problem-solving skills, proper negotiation skills, etc.

Available listings

You should check if the real estate agents have set up their MLS listings. This multiple-listing service database integrates property listings from different brokers into one unified platform. Also, the agent should manage their MLS listings consistently and keep the property details up-to-date.

Additional support

Good real estate agents know to prioritize their clients and their needs in the home-buying process. This is especially important as a deciding factor in this category because buying a home is generally the most significant purchase a person can make.

People with much financial capital can make such a lump sum purchase. But even then, this is a lot of money to spend in one transaction. Many people who cannot afford to buy a house can take a mortgage loan.

Following a good money management plan should help you here, but you should get separate financial expertise for that. An excellent real estate agent will introduce you to good lenders and provide consistent and patient guidance throughout the mortgage negotiation process.

Read reviews on their personality and performance

It would be best if you researched the local reputation of the real estate agents. It would help to read reviews on their official website and online platforms to know how they perform. You can also understand if they are approachable and receptive to feedback through the reviews.

Are they known to listen to their clients, or do they provide generic help only? When you research comments from previous clients, you will better understand their values and work ethics.

Niche marketability

All good real estate agents typically research the details of the property listings they handle to give correct advice to their clients. However, localized familiarity is a good indicator of who is the best real estate agent for you specifically.

Simply put, a real estate agent will be able to describe the features of the listed properties to clients well. But they can rely on their own lived experience to say much better highlights about a house in their locality.

Transparency

One of the priority points for sellers and buyers when hiring real estate agents is service cost-related concerns. These agents take a commission for closing a property sales deal with the clients.

You should notice if the agents are open about the fees, closing costs, commission rates, etc. The best agents provide up-front service fees before offering a purchase price. So, it would help to compare the average fee estimate from different agents you are consulting first.
Tips for choosing the right real estate agent
You will find several real estate agents that handle diverse tasks on either side of the home sales process. However, which one should you hire?
For that, you need to understand your own requirements. For starters, are you looking to buy a new property or sell an old one?
Here are some tips for selecting the right expert for you.
Depend on referrals

There are different ways to find real estate agents, but one of the most trusted methods is referrals. Statistically, 26% of sellers found their preferred real estate agent through referrals in 2022.

Contact homeowners you know, like your extended family members or friends, and ask them to refer their agent to you. The agent you approach from a referral will have a human connection to the one who recommended them. They are likely to provide you with a more reasonable deal.

Try online sources

Besides referrals, you can check out options from online sources as well. Many real estate agents have their company website. You can access their personalized site to see the reviews, service-related information, and portfolio, which will prove helpful. Besides that, you can search for options through online forums and social media. Reportedly, 20% of sellers check real estate sites like Zillow and Realtor.com to find capable real estate agents.

Arrange a meeting

You should directly talk to the real estate agent. This meeting will give an idea of their communication skills, like how open they are to client feedback. Since the home-buying process will take time and involve different stages of negotiations, planning, etc., you should hire someone you connect with.

"When you first engage with a potential agent, look for a connection and trust your own judgment," says Valerie Becks, Owner of Spencer Becks. "The agent should try to understand you, not just your bricks and mortar. When the agent really listens and takes the time to build a connection, they are investing both time and emotion into your property sale."

See how they handle challenges

You should check how the real estate agent you are considering deals with potential challenges. Do they only use tried and tested solutions, regardless of if it applies to your situation? Or do they keep track of changing trends in the market and plan creative yet realistic solutions?

To assess this, you can provide a hypothetical situation to the agent during the initial meeting. Or, you can check their portfolio to see their pattern in managing challenging situations.

Compare listing and sales price

You should review the list price and home selling price the real estate agents provide for their property listings. Here, you should compare the two values for each deal.

"If an agent consistently has a sale price lower than their list price, a potential client can expect that their property is most likely going to sit on the market for a longer time than average," says Sebastian Jania. The Owner of Ontario Property Buyers explains it further, "this would be an indication that the agent is likely locking up listing agreements in hopes of just getting a client rather than being real with their numbers. An agent that does something like this is likely going to fail to be honest and upfront with their client in other ways too."

Ask the necessary questions

While choosing which agent to hire, you should ask specific questions about the process. Firstly, you can understand the necessary details of a real estate contract in this way. At the same time, you can judge the knowledge level of the listing agent you are interviewing from how they answer your queries. This will further help you hire the right, qualified agent.

Here are some examples:

How do you support your client with the home buying or home selling process?

What is your current home sellers-to-buyers ratio in terms of clientele?

Will you represent me as a client alone or with an entire team?

What is the average duration of your professional association with your client?

Which professional vendors are you in contact with that you can introduce to me for a uniform home sale process?

What type of communication do you maintain with your clients, and how frequent?

Can you provide references I can call to verify?

Don't settle on one at first

You should coordinate with multiple real estate agents at the beginning of your property buying or selling process. Most home sellers contact only one agent and settle on them early. However, it is better to talk to at least three agents to understand which one fits your needs best.

You should prepare a set of questions and ask for answers from all three agents. After reading or hearing the answers, you can compare and select the most aligned with your requirements.
Can you sell your home directly?
Yes, you can sell your property instead of working with a professional listing agent. It would help if you prepared an FSBO or "For Sale By Owner" listing for this. However, the process can become complex and time-consuming. Plus, you still have to pay flat fees for MLS listing, additional property staging costs, etc.
So, choose this method only if you have the time and a stable financial condition to handle the entire process without missing timely payments. Otherwise, the best choice is to hire certified real estate agents.
Bottom Line
Real estate agents undergo detailed course material and years of training specific to their state regulations. Professionally, they provide a wide range of services that make home buying or selling easy for people. They help with everything from organizing home tours to negotiating real estate contract terms.
Based on what type of help you need, you should research these agents and their work portfolios. Work with more than one agent to make a more informed choice.
FAQs
The three vital things within the real estate market are home prices, availability, and condition of the properties. Based on these factors, home buyers and sellers can expect different property evaluations, closing costs, average mortgage interest rates, etc.
Yes, real estate agents generally earn very high salaries. The average base real estate agent fee in the United States is around
$96,735 annually
.
Real estate agents can make around $100,000 in one year if they focus on lead generation with the most priority to increase listings in the database. The process will get complicated for total newcomers in the field due to their lack of connections. But with proper mindset adjustment, strict budgets, a SMART approach, etc., earning high in the first year is possible.
According to
reports
, the average salary for real estate agents in Texas is around $85,988 yearly as of August 15, 2023. Agents with 1-2 years of experience earn around $77,523 annually, while those with 10+ years of experience can make around $101,715 annually. So, the earning potential for real estate agents in Texas is high.
Yes, real estate agents make a good amount of income in California, given the relatively high-earning clients they get. The average base salary for these agents in California is around
$106,722 per year
as of August 15, 2023.
With proper help you can
Lower your monthly payments
Reduce credit card interest rates
Waive late fees
Reduce collection calls
Avoid bankruptcy
Have only one monthly payment
Get Debt Relief Now
How much debt consolidation can save you