How low income workers fight for poverty with the falling and rising wages
How low income workers fight for poverty with the falling and rising wages
, in U.S, workers were paid a fair amount of money per week in the year ending of 2012. There was a 4.7% increase in wage from 2011. However, the overall statistics says ,wages have been falling since 2012. This situation has forced the low paid workers to get into poverty.
According to EPI (Economic Policy Institute) report, workers are suffering for the poor wage distribution. In recent times, two county (Manhattan and Los Angeles County) witnessed severe fall in wages. Statistics says, in New York city, overall wages dropped by 3.3%.
An overview
According to Bureau of Labor Statistics, the workers of Los angeles have suffered due to 1.9% of wage falling in 2013. . The scenario has been changed in 2013. After the recession, people are getting different types of jobs. According to the reports of NEP (New Economic Policy), unemployment has declined in 2013, on the other hand, the income inequality has increased simultaneously.
One of the most important causes of wage falling is an acceptation of lower paid job. Many people during recession have accepted lower paid job, while they deserved a job with fair amount of wages. . In many cases, labour unions have lost their power. It became vulnerable with the high jobless rate. Many companies are paying high to fascinate the workers. Sometimes, it will result in a boomerang due to wage inequality.
The workers of the following industry faced a great jerk by losing their job suddenly.
Hospitality
Education and health services
Technology
Professional services
Finance
Leisure
Cities where wages are plunging (4th quarter of 2011 and 2012)
Anniston-Oxford,Ala
Rocky,Mount,N.C
Elizabethtown,Ky.
Atlantic City.N.J
Flint,Mich
Kennewick-Richland-Pasco,Wash
Las Cruces,N.M
Ocean City,NJ
Sandusky,Ohio
Santa Cruz-Watsonville,Calif.
Cause:
Unemployment in higher paying industry.
The end of Government programs (federal stimulus package 2009).
Natural calamity in New Jersey — Ocean City and Atlantic City.
Counties where wages are plunging (4th quarter of 2013)
Dallas County, Texas
Orange County, Calif.
Maricopa County, Ariz, which includes the Phoenix area
Cook County, Illinois, which includes Chicago
Harris, Texas, which includes Houston
Cause:
Loss of industrial based jobs.
Inequality of wage distribution.
Lack of jobs with good payscale.
Counties where raise the minimum wage (2013)
Miami-Dade
Fla. saw
King County
San Diego
Current Real earnings in US (Bureau of Labor Statistics)
Read below to get an idea about current real earnings (weekly, monthly and yearly) in US.
Real average hourly earnings and Real average weekly earnings
As per the report, real average hourly earnings plunge 0.2% (from April to May,periodically adjusted). . The average workweek and the decrease in real average hourly earnings have not changed.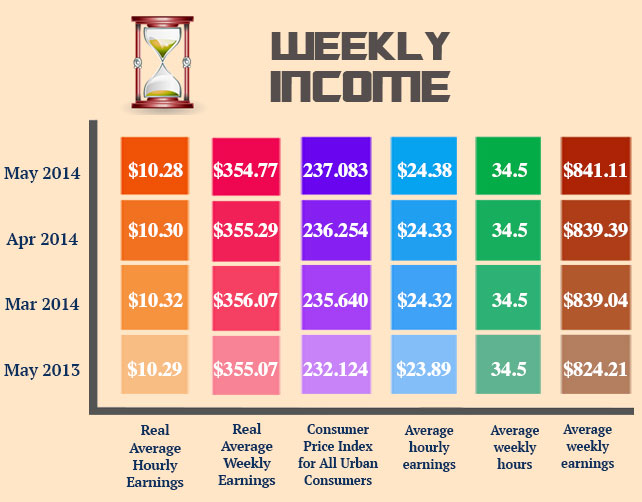 (Source - bls.gov)
Over the month percent change
In the last 3 months (from March 2014 to May 2014), the real average hourly earnings fell 0.1 % for the production and nonsupervisory employees.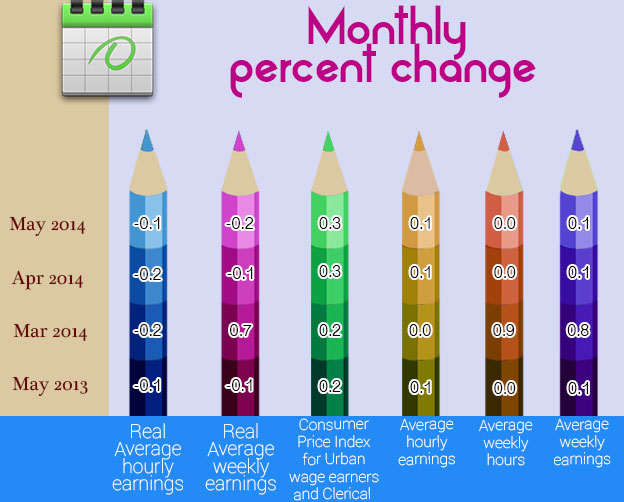 (Source - bls.gov)
Over the year percent change
In the last one year (from May 2013 to May 2014), real average hourly earnings increased 0.3%. This is also applicable for Real average weekly earnings over the same period.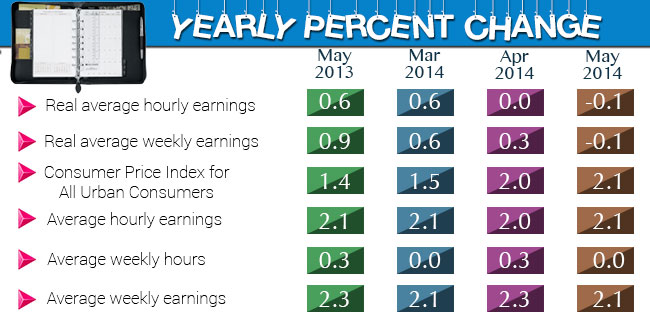 (Source - bls.gov)
Recent news on wage hike bill (Massachusetts)
Obama on Thursday 06.19.2014, approved a bill on wage hiking in Massachusetts. According to the bill, the state's minimum wage would raise $8 per hour to $11 per hour by 2017. President Obama appreciated the Massachusetts lawmakers for the bill and is looking forward for the further progress . Obama told on his written statement that "Under the leadership of Governor Patrick, Massachusetts joins a growing coalition of states, cities and counties that are doing (their) part to make sure no American working full-time has to support a family in poverty."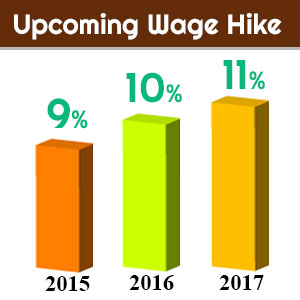 (Source - money.cnn.com)
Impressions on people:
There are mixed opinion behind the bill passed on the wage hike in Massachusetts. According to critics, this bill may ruin small businesses. They claimed boosting the state's earned income tax credit would be best option to help low wage earners.
Barre Democrat told, "There should be no connection between the words working and poor, If you work hard for a living, you deserve to be compensated fairly and adequately."
According to survey of CNN MONEY"S American Dream Poll, 71% of people is hoping for the best in future, and favoring the federal minimum wage. 36% of them say YES for $10.10 per hour. 16% of them says YES to more than $10.10 per hour.