Credit unions are wooing people: Dissect myths to avoid trouble
Credit unions are wooing people: Dissect myths to avoid trouble
Credit unions are receiving special attention from the people. After the leading banks have started increasing various fees, credit unions have become gained popularity amongst the masses. Cash back offers, special reward points, commercial loans, and some other facilities are attracting an increasing number of people to credit unions. A large number of people are opening new accounts in the credit unions every day. As such, it has become extremely important for the people to clear their mind off the most prevalent credit union myths before working with them. Read along to know about some common myths surrounding credit unions.
Myths surrounding credit unions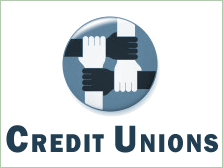 Credit unions are giving lucrative offers in order to attract more consumers. Some of the credit unions are even giving cash rewards to the people for becoming new members. This is inducing the people to shift their loyalties from the banks to the credit unions.
It is true that the popularity of the credit unions have increased during the last 12-15 months. However, this new popularity has also brought into light some of the common false beliefs regarding credit unions. Here are some of most common credit union myths which people should be aware of:
1.The services of the credit unions are not great:
Credit unions could not offer a wide range of services to the people in the past. This is mainly because credit unions were run on a tight budget. They were primarily managed by the volunteers who couldn't devote long hours to the credit unions.
Credit unions primary offered few basic services such as loans, deposits, withdrawals, etc. However, circumstances have changed now. Credit unions are now offering services at par with the leading banks in the country. They are offering the following things to the people:
Plastic cards
Checking accounts
Home loans
Online banking
Automobile loans
IRAs
2. Credit unions are helpful for the local banking purposes only:
Almost all the credit unions do not have their branches nationwide due to some legal issues. However, this does not create a major problem for the consumers. If your credit union is a participant of the Credit Union Service Centers network, then you're free to do your work anywhere. You'll be able to do your banking work at any branch of participating credit union in the US. You can locate a branch of the participating credit union through cell phones nowadays.
3. Your savings won't be FDIC insured:
It is not completely false. Unlike banks, your savings in the credit unions will not be insured by FDIC. However, this does not imply that your savings in the credit unions are not safe and secure. Your deposits are still federally insured through the National Credit Union Administration. So, your money is in safe hands. You can deposit your hard earned dollars without any fear of losing them.
4. Workers of certain companies can become members of credit unions:
It was true during the early years of credit unions. During those times, credit unions didn't have large membership base. Only a few thousand people were members of the credit unions. As such, it was quite possible that these people worked at the same company or belonged to a same club.
However, such restrictions (if they really existed) have slowly been relaxed with the passage of time. Nowadays, credit unions are welcoming inhabitants of a certain locality to become the members. This implies that almost all American citizens are eligible to join credit unions from different parts of the country.
Another popular myth surrounding credit union is that you'll have to pay a fee for becoming a member. Well, this is not exactly true. You may have to purchase a share while creating a new account in a credit union. The price value of this share ranges between $5 and $25. Once you purchase this share, you become entitled to all the benefits enjoyed by a credit union member. Moreover, you'll also be paid an interest at par with the bank savings account. You'll have to maintain this balance as long as you're associated with the credit union. When you decide to close your account, you'll get the full refund from the credit union.