Summer vacations are over. Children are all set to go back to their schools and studying. Parents are ready to hit the stores for purchasing the school clothes and bags. It is one of the biggest consumer events of the year wherein families spend as much as $603 on school items.
Have a look at the article to know about the 5 tips that may help you cut down the school expenses this year.
Tips to cut down the school costs this year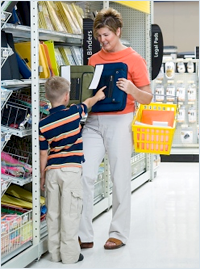 Here are the 5 interesting tips to help you cut down the school costs this year:
1. Glance through your kid's wardrobe: Your children may ask you to buy new school uniform for them. But this does not mean that you should rush to the shops the very next day. Have a look at the wardrobe of your kids. Find out whether or not they really need new uniforms. Buy only those items which they really need.
For example, you can purchase a shirt for your son and a skirt for your daughter. You don't necessarily have to purchase 2 pair of uniforms for your kids.
2. Go to the shop alone: Research shows that parents tend to purchase more items when they go for shopping along with their children. Children often create a scene in the shop to make the parents purchase their favorite items. So, it is better to go to the shop alone. Write down the items you need to purchase in a piece of paper. Buy only those items in the shop.
3. Create a budget: Tell your children clearly about the amount you'll spend on shopping. For example, you can set aside around $250 for shopping. Encourage them to finish their shopping within $150 and keep the remaining $100 with them. This will motivate them to spend less.
If your kid has earned some money during the summer vacation, then you can ask him/her to purchase the school books, bags, clothes, lab equipments, etc. This will make your kid spend money cautiously.
4. Purchase second hand books: Books and copies are quite expensive nowadays. You can purchase second-hand or used books at a low price. You can also ask your kid to issue books from the school library. He can just take photo-copies of the important chapters and return the book to the library.
5. Buy durable products: Parents often have the tendency to purchase cheap products for saving money. But one thing they tend to forget is that the cheap products don't last for a long time. They will have to purchase the same products very soon.
Instead of purchasing cheap products with trendy stickers and logos, parents should buy durable goods. It is advisable to buy goods that will last minimum 2-3 years. This will help them to save money in the long run.
Finally, purchase goods in bulk so as to get heavy discounts. The retailers will give you heavy discounts for purchasing products in bulk. This will enable you save more and spend less.
With proper help you can
Lower your monthly payments
Reduce credit card interest rates
Waive late fees
Reduce collection calls
Avoid bankruptcy
Have only one monthly payment
Get Debt Relief Now
How much debt consolidation can save you