Do you get help of tax prepares when filing your tax returns? If yes, then it is extremely important to work with a tax preparer whom you can really trust. A lot of Americans are quite wary of making complex tax calculations and prefer to get help of the tax preparers in order to avoid committing costly mistakes. However, a lot of tax prepares make serious mistakes that lead to late fees, fines, imprisonment of the consumers consulting them. This is why, it is imperative to locate a tax preparer who can help file your tax return correctly. Read on to acquire knowledge about how to find a trustworthy tax preparer.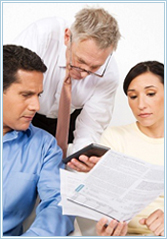 Tips to find out a reliable tax preparer
Go through the following lines to know about some simple tips that can help you locate a reliable and trustworthy tax preparer.
• Certified public accountant: It is best to work with a certified public accountant. You should check the track record of the accountant from the state accountancy board and the official website of Better Business Bureau. If you find that a huge number of complaints have been filed against the accountant, then it is better to not work with that person. However, if you are unable to afford a certified accountant, then you can use a tax software program. This software will help you file your tax return in a secured way.
• Ask your family: You can ask your relative or friend to recommend a reliable tax preparer. Some families work with a single tax preparer years after years. So, if your relatives or friends know or work with a reliable tax preparer, then ask them to refer you one.
• Available only in the tax season: Before selecting a tax preparer, make sure he/she is available all the year round. This is because some tax preparers open their offices only in the tax reason and are untraceable throughout the whole year. This means that if you have any tax related problem in the mid-year, then there will be no one to help you out.
How to detect unreliable tax preparers
You should be wary of the tax preparers who do the following things:
• Make impossible promises: Be ware of the tax preparers who promises that you'll surely get tax refund.
• Ask you sign blank documents: You should avoid working with a tax preparer if he/she asks you sign blank documents.
• Charge a portion of your refund: It is better to not work with a tax preparer who charges a portion of your tax refund as his/her fee.
• Do not offer documents: If a tax preparer says that he/she will not provide you with the copies of your tax return, then don't work with him/her. You should also not work with a tax preparer who promises to make false documents for you.
Finally, if any tax prepares tells you that there is no need to provide valid documents to support your claims, then know for sure that it is a scam. You are required to enclose relevant documents with your tax return file.
With proper help you can
Lower your monthly payments
Reduce credit card interest rates
Waive late fees
Reduce collection calls
Avoid bankruptcy
Have only one monthly payment
Get Debt Relief Now
How much debt consolidation can save you