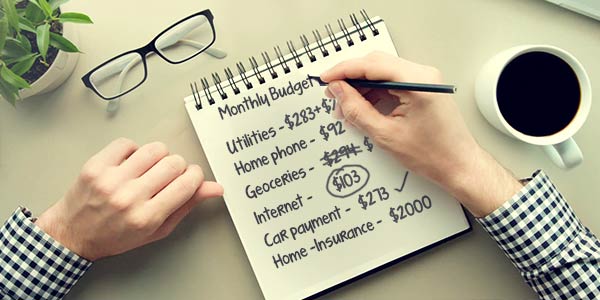 Are you fed up with the way your financial life has shaped up even after creating a personal budget? Are you wondering what went wrong with your personal budget? Your household budget may not work for various reasons, one of them being it's not realistic. There might be other reasons for budget failure, too.
However, a good budget is the first step in financial planning.
Why budget is important
Budgeting is creating a spending plan. If you can do it properly, you'll always have enough money for buying the things you need.
You need to plan a budget to keep your personal finances right on track.
It also helps you to do financial planning since you can forecast how much you'll be able to save after a couple of months.
You can also make realistic assumptions that help you to set your short and long-term financial goals with the thought in mind to achieve financial freedom within a definite time.
Reasons for a budget failure
"A budget tells us what we can't afford, but it doesn't keep us from buying it." - William Feather
Do you often think why is your budget not working? Are you bad at budgeting? No, not always. It might be that you've not given it enough time or you're overspending on items that you might not need.
Here are some possible reasons why budget does not work.
1

You have planned a strict and unrealistic budget

One of the major reasons why budget does not work is not able to prepare a realistic one. By 'realistic' I mean a budget which you'll be able to follow.

If you plan an excellent budget through which you can save, say about 40% of your take-home pay, but it's difficult to follow, then you won't be motivated to follow it. It might also not be easy to follow.
2

You are expecting results in the first month itself

Yes, it is one of the major reasons why budget does not work. Do not expect that you'll be able to plan and follow a good budget in the first month.

You need to give at least two to three months to get adjusted to the lifestyle you've planned.
3

You don't have the patience to stick to your budget

Just planning a budget doesn't serve your purpose. You will never be able to plan a successful budget if you don't refer it every now and then throughout the month.

If you don't track your spending regularly, how will you know about its loopholes?
4

You spend more than what you earn

Look close at your budget and check out whether or not you're getting a significant number after calculating your income minus expenses.

If you're not able to save a significant amount, then you're comfortable with spending more. You have allotted more on items than what you can afford.
5

You missed out some of your expenses

This is one of the most common problems of a budget failure. If you fail to note each and every expense, how can you track your spending?

It might also happen that you're cheating on your budget by overstating your income or understating your expenditure.
6

You didn't consider your annual expenses

Again, another reason why budgets don't work. Only including monthly expenses won't do; most of us have significant annual expenses like insurance premiums, property taxes, holiday expenses, vacation planning, and so on.

Doing so, you put pressure on your budget the month you have to make these expenses.
7

You are planning budget all alone

You may have promised yourself to lead a disciplined financial life. However, you would not be able to fulfill your promise unless you've discussed your financial plan with your spouse.

If your spouse happens to spend a huge amount, then your household budget won't be of any use.
8

You haven't set any short-term and long-term goals

Another one which I hear a lot! Tell me, don't you want to win a prize?

If so, then why don't you set short and long-term financial goals?

If you don't set goals, you won't be motivated to stick to your budget and to achieve them.
9

You didn't plan any emergency fund

If you don't have an emergency fund, not only your budget will fail, but also you may face debt problems during a financial emergency.

Sometimes, you may need such a fund even if you have insurance policies.
10

You don't monitor and adjust your budget

Have you been successful in following your budget once but something went wrong after a couple of months?

If so, then you might not have monitored your budget plan every month.

Your requirements are always changing and a budget can't be successful if not altered.
How to fix a budget
Here are the solutions for the problems already discussed.
Try to plan a realistic budget keeping your lifestyle in mind. You can follow a frugal lifestyle if required.
Keep working with your budget and be ready to adjust it every month. You will surely be successful.
Track your spending and compare it with what you had planned.
Try to change your lifestyle and live within your means or try to increase your income.
Take an account of each and every expense. Use ATM withdrawal receipts, checks, online banking, etc. to document every purchase.
You need to budget your not-so-regular expenses by dividing the total amount by 12 and including it in your monthly budget.
Sit with your spouse and kids and have a frank discussion about your financial goals. This is the best way to manage the household budget and your kids will also learn to plan a realistic budget.
At least start by setting a goal of saving a significant amount within a certain period and invest it for a better return in the future.
Even if small, start setting aside a certain amount every month for your emergency fund. Try to save at least 3-6 months of your expenses in your emergency fund.
Set a date on your calendar to monitor your budget at least every alternate month and make changes if required.
Some more ways to fix a budget and make it successful:
a

Prioritize each and every dollar you earn

From grocery planning to saving money for fun activities, you need to plan everything. And, you have to make sure that you're following the priority you've set.
b

Sell your unwanted stuff

It is said that clutter gives you stress as you always feel that your work is left undone. So, declutter your home, sell unwanted items and use the money to jumpstart your emergency fund.
c

Analyze your spending

Follow this if you're wondering how to fix a budget. The experts say that you need to analyze your spending carefully to plan a realistic and successful budget.
d

Do part-time work to earn more

Utilize your leisure time and do some work to earn more. You can start a blog, give tuitions online, or engage yourself in some part-time job. You'll have extra room in your budget.

Do you know that a budget can help you make wise financial decisions? It gives you the power to move the direction of your life on the right path.
With proper help you can
Lower your monthly payments
Reduce credit card interest rates
Waive late fees
Reduce collection calls
Avoid bankruptcy
Have only one monthly payment
Get Debt Relief Now
How much debt consolidation can save you