If you're unable to tackle your bills in Connecticut and charge-offs or collections are showing up on your credit report, it's time you look for a way out. Connecticut consolidation and settlement are 2 ways you can tackle the problem.
Connecticut debt consolidation - What are the options available?
Connecticut consolidation helps you to replace several bills with a single monthly installment at a lower interest rate. This can be done either by enrolling in a Connecticut debt consolidation program or by taking out a consolidation loan. Here's how the 2 options work.
Connecticut consolidation program:
There are companies which offer to help you to manage bills and pay them off in easy monthly installments. You can enroll in a Connecticut debt consolidation program where consolidators communicate with your creditors and collection agencies and negotiate to lower your interest rates and waive off late fees. Making payments under the program is stress-free because you have to pay a single monthly installment instead of many.
Consolidation loan:
With an unsecured consolidation loan, you can pay off bills with one large payment at a low interest rate. There will be certain fees involved with getting a loan, but you'll save money with the lower interest rate and improved credit score.
For further details, read this article on "4 Ways to consolidate bills".
Connecticut debt settlement - How does it work?
If you're unable to pay off the entire balance due on your bills, you may choose to negotiate a settlement with your creditors. You should explain your hardship to the creditor and ask them to forgive a certain percentage of the amount you owe. You can use debt settlement letters to help you communicate with your creditors.
If you aren't comfortable working out a settlement on your own, get help from a Connecticut debt settlement company who'll negotiate with creditors so that they reduce the total amount you owe. Learn more...
State of Connecticut (CT)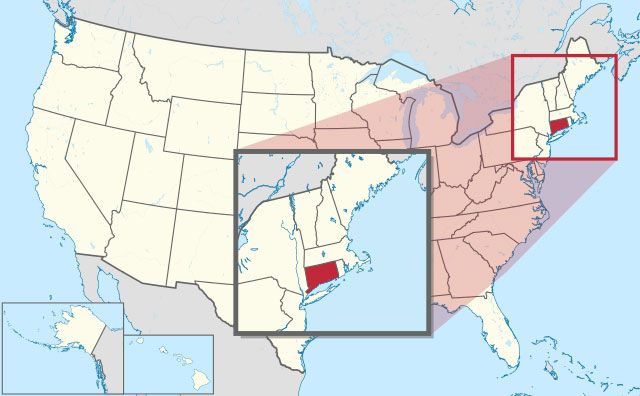 Avg credit card debt: $6,112
Delinquency rate on (credit card): 1.37%
Mortgage debt: $227,119
Delinquency rate on (Mortgage): 3.13%
Auto loan debt: $15,486
Delinquency rate on (Auto loan): 0.90%
Unsecured personal loan debt: $12,220
Delinquency rate on
(Unsecured personal loan): 1.97%
How do you find the best consolidation/settlement company?
To find the best consolidation or settlement company in Connecticut (CT), you need to take the following steps:
Check with the BBB: Read through the company profiles available at the Better Business Bureau (BBB) website. It'll help you to find out whether the company is accredited by the BBB and if there are complaints against the company.
Go through client testimonials: Read through the testimonials given by customers who've worked with the Connecticut debt consolidation company you've chosen.
Visit DebtCC Ranking Chart: You can browse through the state-wise listing of the best consolidation/settlement companies provided by the Ranking Chart. Just select your state and you'll find the profile and area of each company along with their accreditations.
What should you avoid when consolidating or settling bills?
When you enroll in a Connecticut debt consolidation or settlement program, make sure you avoid these 4 things:
1

Using credit cards: Do not use credit cards because it will increase your debt load.

2

GoMaking late payments: Do not make late payments towards your bills while you're in a CT debt consolidation or settlement program.

3

Purchasing unnecessary items and overspending: Try to avoid buying unnecessary items while you're in a consolidation or settlement program. This will help you save money while you're enrolled in a Connecticut debt settlement or consolidation program.

4

Ignoring the fine print when applying for a loan: If you've decided to go for a consolidation loan, read through the fine print prior to applying for the loan. If you have any questions regarding the terms of the loan, ask before your sign.
Case study
Scenario
I'm from Washington, CT My question is; will it bother me later when I've made my last house payment as required? Both of my payments (mortgage and escrow) get automatically deducted from my checking account every month. My last payment would be in 1st August 2016. I may contact my state tax department to claim my yearly tax payments. But, is there anything else I should be careful about? Wouldn't my lender send the house deed to me like the banks do by automatically sending the car's title to its owner once the loan has paid off? I do figure out that auto deduct is fine till I'm done with my loan repayment. What else do I have to do? Anyone who's been through this before may help.
Solution
Congratulations on your marvelous feat. Almost a quarter of Americans who are servicing underwater mortgage loans are dying to be in a situation like yours. Once you've paid off your mortgage, your lender will send you the canceled documents. Make sure to keep them safe. Make sure you get them scanned and keep an electronic copy of all the papers in your mail. Your canceled documents will indicate that your lender has no interest in your home, whatsoever.
Next, check that your lender has sent the canceled documents to the local office where these documents are recorded to prove that the mortgage lien on your home has been finally released. However, if there's a deed in trust, then your lender must release your home's lien and return the deed back to you.
Lastly, ask your homeowner's insurance company to strike off your lender's name as one of the insured on your homeowner's insurance policy. Once you've covered all these points, make sure that all the information gets properly filed or recorded with an appropriate governing body. All the best!
How much
you can save
in Connecticut
FAQ on Connecticut consolidation and settlement
I've fallen into a payday loan trap in Connecticut, there are 11 loans to be repaid and I've been paying finance charges on 2 of them for over a year now. I'd like to know how to get out of this trap. Can a CT debt consolidation/settlement company help?
Ans:
Payday loans (pdls) are illegal in Connecticut. Therefore, you just need to pay the outstanding principal balance on the pdl accounts and not the interest. So, enrolling in a consolidation, management, or settlement program won't help. It's better if you negotiate a suitable repayment plan with the pdl lenders.
Learn more...
I owe a lot of money on credit cards. I'm still current on my bills but it's difficult to pay more than the minimum payments. I've received several letters from debt relief companies that promise to reduce my outstanding balance by 50-60%. Can I go for Connecticut debt settlement if I'm still current on my cards?
Ans: If you're still current on your cards, your creditors may not agree to settle the bills even though you have gotten help from a Connecticut debt settlement company. That's because settlement companies usually agree to reduce your balance only when you've missed payments for 90 days or more. However, it depends upon the negotiation skills of the settlement company, whether they can convince the creditors to settle your bills
Can creditors sue me for cc debt?
Ans:
Creditors may or may not sue you depending upon the outstanding balance on your card accounts and how long you've been behind in paying your bills (for example, 60 days or 90 days). Learn
what to do when you're sued for cc bills
.