If you're feeling trapped by credit card bills or other debts in Indiana, you may be better off trying Indiana debt consolidation or settlement. Consolidation will help you to combine your unsecured bills - credit/store cards, personal loans, payday loans, etc. into a single monthly installment. But settlement will enable you to get out of the obligation by paying less than the full amount you owe.
Indiana debt consolidation - 3 Major options to watch out for
If you're thinking "How do I consolidate my bills?", look through the options explained here.
Consolidation program
This is one way of consolidating your bills into an affordable monthly payment and saving money on interest. What you need to do here is attend a free counseling session with an Indiana consolidation company. A consolidator at the company evaluates your financial strength, and based on how much you can afford, he/she recommends the best option for you.
Consolidation loan
An Indiana consolidation loan helps you to combine several bills into a single loan that carries an interest rate that is much lower than the average rate you've been paying on your bills. Learn more about Indiana
debt consolidation loans
before you apply for one.
Balance transfer
This is a self-help option to repay your credit card bills. Here, you take out an interest-free card having a zero percent introductory rate period of 12-15 months and transfer all your balances into the new card. Before you apply for a card, find out if you'll be able to pay off your bills within the introductory period. After the introductory period is over, your interest rates will increase significantly and make it harder for you to repay the large outstanding balance.
State of Indiana (IN)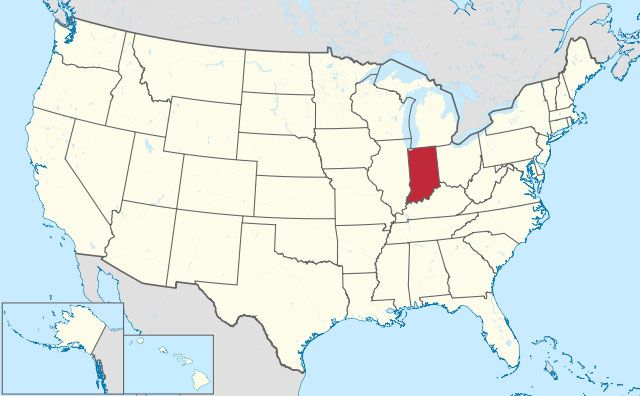 Avg credit card debt: $4,956
Delinquency rate on (credit card): 1.49%
Mortgage debt: $119,224
Delinquency rate on (Mortgage): 2.10%
Auto loan debt: $16,230
Delinquency rate on (Auto loan): 1.26%
Unsecured personal loan debt: $10,634
Delinquency rate on
(Unsecured personal loan): 2.19%
When you begin with an Indiana debt consolidation program, the consolidator negotiates with your creditors or collection agencies so that they agree to cut down your interest rates and even eliminate/reduce late payment fees or over-limit charges. Thus, with an Indiana consolidation program, your monthly repayments are reduced significantly thereby giving you relief from the burden of spiraling bills.
Alternatively, you can transfer all your balances into an existing low interest card. Doing this will not help you make interest free payments but at least you'll be able to lower your interest and monthly payments. Learn more about balance transfers from the information available on Do it yourself consolidation.
Apart from dealing with an Indiana consolidation company or a bank offering consolidation loans, you can take advantage of online consolidation services that offer help and advice on how to pay off your bills.
Debt consolidation in Indianapolis
Consolidation program and loan available in Indianapolis are the same as other Indiana consolidation programs or loans. However, Indianapolis debt consolidation companies may charge an enrollment fee, while others may require you to pay minimum fees for their services while they are helping you. There are non-profit companies as well. These companies may ask you to make voluntary contributions to take advantage of their consolidation services.
Try out Indiana debt settlement if you can't consolidate bills
If you're not comfortable with paying on a monthly basis because you're experiencing financial hardship or job loss, you can look for a part time job and try to settle your bills by getting enrolled in an Indiana debt settlement program. When you enroll in the program, the representatives at the settlement company negotiate with your creditors in order to reduce your outstanding balance . Indiana debt settlement also saves you from paying a large amount of late fees and over-the-limit charges on credit cards.
How much
you can save
in Indiana
FAQ on Indianapolis, Indiana consolidation
I have several pdls in Indianapolis; I've been paying interest on them for over a year now. They take $300 from my checking account every week, just in fees. How do I get out of this problem?
Ans:
Payday loans are legal in Indiana. Therefore, if all your loans are storefront loans you can combine all your payday loan payments into one easy monthly installment. This can be done by getting enrolled in a payday loan consolidation program offered by an Indianapolis debt consolidation company. These programs give you the chance to pay off all your bills on time, so that you can avoid threatening calls from collection agencies. Know more....
I'm a full time student with cc bills worth $31,000. I have a home and car. I've never missed payments on the home, and have no liens on the car. Can card issuers place a lien on my home and sue me for a judgment? I'm in Indianapolis.
Ans:
Card issuers can sue you for a judgment on your cc accounts, but whether they will depends on how much you owe. They may even place a lien on your home or car if you can't pay off your bills. To avoid any legal action by creditors, you should go for an Indianapolis consolidation program and have your interest rates reduced. This will make your monthly payments more manageable.
I received a letter from a collection agency in Florida. I'm now in Indiana. It's about an old cell phone bill payment. Can an out-of-state CA sue me for unpaid bills? Should I go for an Indianapolis consolidation program?
Ans:
An out-of-state CA can sue you for unpaid bills in your current state of residence. Since you have a single bill, consolidation won't make sense here. You can either request an alternative payment plan from your creditor or try to negotiate a settlement if you can't pay it in full.
My wife has a number of unpaid medical bills at the local hospital. Some of the accounts were 90 days, 50 days, and 60 days late. All the accounts are in collection. The hospital authorities said as long as we make monthly payments to the CA, everything will be fine. How do I proceed? Should I go for an Indiana debt consolidation program?
Ans:
Yes, your wife can try out an Indiana consolidation program in order to consolidate and pay off medical bills. The consolidator will negotiate low interest rates with the collection agency to reduce your monthly repayments. Once your wife starts making payments, her credit will gradually improve.