Are you struggling with rising credit card debt? Do you find creditors calling you frequently at home and at work? Are payday lenders raising your interest rates because you can't make your payments on time? Well, if you're in this kind of situation in New Hampshire, you should try a New Hampshire debt consolidation or settlement program.
New Hampshire debt consolidation vs settlement
To find out which option will work better for you, check out how each program works.
This is where a consolidation company negotiates with your creditors or collection agencies to lower your interest rates and monthly payments. You'll make a single monthly payment to the consolidation company instead of making multiple payments to your creditors. The
consolidator
will also negotiate with your creditors to reduce your late fees or penalty charges. A consolidation program takes only 3-5 years depending on how much you owe to your creditors.
This is a personal unsecured loan available from a bank, credit union or private lender. You pay your multiple bills in a single payment, and then continue to make a lower monthly payment on the consolidation loan.
In this program, you enroll with a New Hampshire debt settlement company that negotiates a lump sum payment with your creditors to pay off your bills. You may be able to settle your bills depending upon the amount you owe. The remaining amount is canceled or forgiven by the creditor. However, the IRS may consider the canceled amount of debt as taxable income.
State of New Hampshire (NH)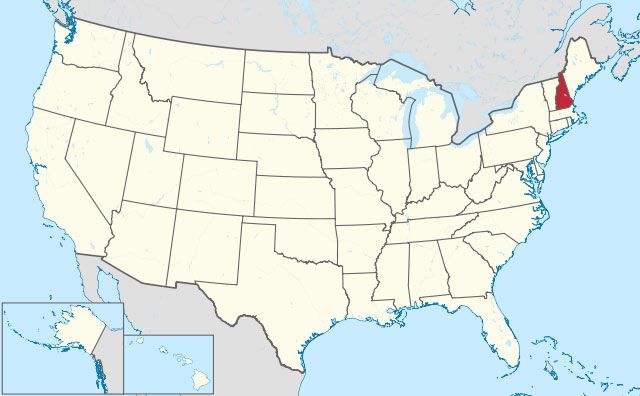 Avg credit card debt: $5,626
Delinquency rate on (credit card): 1.16%
Mortgage debt: $176,384
Delinquency rate on (Mortgage): 1.62%
Auto loan debt: $15,908
Delinquency rate on (Auto loan): 0.71%
Unsecured personal loan debt: $11,401
Delinquency rate on
(Unsecured personal loan): 1.48%
Pros and Cons of New Hampshire debt consolidation
Check out these pros and cons of consolidation so that you can find out what's best for you.
Pros:
Repay your bills at a low interest rate
You pay one monthly bill instead of many
Have late fees reduced or eliminated
Get rid of creditor/collection calls
Pay off your bills in just 4-6 years
You'll save money each month
Cons:
Can't consolidate student loans, tax debt or any other secured debt with a program
Total interest you pay on a consolidation loan is larger
You pay fees to a third party company or lender
Pros and Cons of New Hampshire debt settlement
Get an idea of the pros and cons of getting enrolled in a settlement program.
Pros:
Pay much less than the amount you owe
Get rid of your obligations faster
Creditors or CA may not file a lawsuit
They may stop making harassing calls
Cons:
With settlement, your credit score takes a hit
You may have to pay income tax on the canceled debt
How to decide whether to consolidate or settle bills
If you're sure you can't afford a monthly payment plan even with a low interest rate, you'll know that New Hampshire debt consolidation isn't right for you. This is when you should choose to settle bills on your own or get help from a New Hampshire debt settlement company.
You should also compare how much to save with New Hampshire debt settlement or consolidation. Use these debt calculators to find out which program is right for you. Learn more...
How much
you can save
in New Hampshire
New Hampshire debt consolidation and settlement FAQ
I'm paying on 3 credit card accounts held by BoA, Chase, and Capital One. But I missed the last 2 payments with BoA and I'm struggling to meet the payments on the other cards. I'd like to settle my bills with BoA, but will they allow it, even though I've missed payments? How do I get rid of these bills?
Ans: If you're looking to settle your bills with BoA and you're having trouble managing other accounts, a New Hampshire debt settlement program may be the right solution for you. Under this kind of program, a settlement company will negotiate with your creditors or collection agencies to get them to accept a smaller payment.
My mother has used my Social Security Number to apply for several credit cards. It's been a few weeks since I've learned about it. She has actually enrolled in a New Hampshire debt consolidation program and now she expects me to make payments under the program. But the creditors haven't stopped calling us and I'm not sure as to whether the program is legitimate. What should I do now?
Ans: Using another person's Social Security Number to apply for credit is a form of identity theft, even if the person applying is your mother. Depending on your state's law, you may be able to avoid paying; however, the credit card companies may prosecute your mother for fraud. Since your mother is the individual who incurred the debt, she should be the one paying the consolidation company.
If you (or your mother) signed a power of attorney, and the consolidation company sent a copy to each creditor, the creditor is legally required (in every state) to stop calling you and deal with the consolidation company. You should make sure that the consolidation company sent out a power of attorney to each creditor.

New Hampshire debt consolidation programs offer a legal solution to your debt problems. If you want to make sure that the consolidation company you are dealing with is legitimate, you should check their accreditation with the Better Business Bureau (BBB).
Around 4 years ago, I decided to leave my parents' home and took out several credit cards to keep up with my expenses. I have accumulated debt on 6 accounts and there's a judgment on one of them. Can I get the judgment off my credit report? Should I file bankruptcy to get out of this mess?
Ans:
Each state requires that a creditor enforce a judgment within a certain period of time, called the Statute of Limitations (
Statute of Limitations
). If the creditor has not enforced the judgment within your state's SOL for judgments, you need to go to court and have the judgment released. Otherwise, you need to contact the creditor and work out a payment plan.