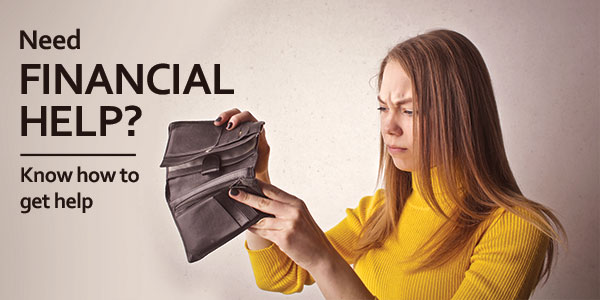 "Are you thinking of "How can I get someone to pay off my debt?" Well, it's you who has to pay down your debt. Nobody else will do it for you.
However, you may take financial help from close family members or friends. Alternatively, you can seek professional help or follow the do-it-yourself plan to pay your way out of debt."
Managing your finances wisely is one of the virtues of a responsible citizen. But sometimes people face severe issues managing their finances, that they become helpless to pay off their debts. Sometimes they do not have any choices left, other than seeking debt help from their close ones, or from a professional company that deals with money issues.
But have you ever thought, "is this a good idea to ask for financial help from others and pay off debt?" You might be thinking - what could go wrong if you do so?
It isn't a bad idea to seek financial help from someone close to you. After all, a person with whom you maintain a good relationship, such as your parents, your spouse, children, your other family members or relatives, your friends, or even your neighbors, can easily help you to get out of debt if they are capable of doing so.
But practically, there are a few good things and some bad things about asking for debt help from a dear one. Let us discuss those things a little bit.
Pros and cons of taking financial help from others to pay off debt
Pros:
The chances of getting the money are more - If you ask financial help from your family members or friends, in most cases they will definitely help you to get out of debt. It is because you have a nice and comfortable relationship with them, and most

importantly, they trust you deeply. So, if you think closely, getting a monetary loan from them is easier than borrowing from any commercial lender.

You can get the money fast - If you take out money from your relatives or your friends, most of the time you receive the money promptly. A conventional lender may take enough time to complete the paperwork, which is tiring and complex. Here, you don't have to spend too much time to get money from your dear ones.
No paperwork, no credit requirements- Your dear ones such as relatives, or friends won't ask you to submit any papers, ID proof, or credit report before giving you the money. They will support you and provide help paying off debt at any time.
No interest is charged at all - Your friends, or any other person, who is dear to you, won't charge interest on the money they give you, to pay off debt. Technically, it is the best benefit of taking debt help from a person who is close to you.
No monthly payment - Usually there are no such rules that you have to make regular monthly payments to the person who provided you with financial help to pay off your debts. Normally people would return the money, borrowed from their relatives or friends, with a single lump sum amount, and avoid monthly payments. So, this way you don't have any issue managing your household budget. You just have to keep saving at a moderate level so that you can return the money as comfortably as possible.
No late fees or penalties will be charged - Your family members, friends, or neighbors won't possibly charge a late fee or penalty, if you miss making payment on time.
There are no legal consequences if you can't pay back - If you somehow can't pay back the money to the person, in most cases that person won't take any legal action against you. Normally in such money lending, there is no agreement signed between the two parties. So, you are safe from any legal punishment if you do not pay the money.
Cons:
You might be denied for the loan - Though the chances are less, yet it might happen that when you may ask monetary help from your father, relatives, friends, or maybe from neighbors/colleagues, they will straight up deny your request. They might show you various reasons, such as a sudden financial crunch, lack of cash, or just reject the request due to the huge amount you are demanding from them.
You might not receive the full amount - If somehow one person is willing to provide you with financial help, that person may end up paying less than what you have requested.
You may ruin your relationship with them - If you do not repay the money taken from your family members and others, it might create issues in the relationship severely. Money is probably the possible root of all the major issues between families or friends. So, try to avoid this situation and repay the money within time.
You might be asked to return the money quickly - It might happen that the person, from whom you borrowed the money to pay off debt, may ask you to return the money sooner than you have expected. They might also ask you to make monthly payments, sometimes twice a month
The loan might become costlier than a conventional loan - Your relatives, friend, or neighbor may charge you a lot more interest on the money borrowed from them. The interest rate might be higher than the current rate for a personal loan. So, in the end, you'll be paying more compared to the amount you might have paid to the commercial lenders.
How do you ask someone to provide you with debt help?
There are some steps you should follow to ask and convince someone to get financial help to pay off your debts.
Step 1. Choose a person to ask for help
It is one of the important steps that you should focus on. You might have the option to consider your family, friends, or neighbors/colleagues to seek money from. It is better to ask for help from the person who is very close to you and can help you financially.
Step 2. Be honest and inform about your situation
First, ask for a suitable time to tell your issue clearly. Inform everything about the financial situation and the debt burden you are carrying now. Tell that person what possible options you have tried already. Describe how the financial support will make the situation normal for you instantly, and tell your plan to get back on track in detail.
Step 3. Be specific about your intentions
You should clearly ask for the amount you need. If you see that the person is hesitating, do not pressurize him/her to give you the same amount. If possible, ask the person to consider your request again, and ask for a lower amount. It will increase the chance of getting a portion of the required amount.
Step 4. Offer them enough time to think about your request
You need to give some time to your dear ones to consider the matter if you are asking for a large amount of money. You should also meet face-to-face again and discuss it openly rather than having a conversation via phone call.
Step 5. Fix a date when you can pay back the money
You might be in a debt burden now, but you should also think about the person who is lending you the money. If you are borrowing a big amount from a person, he/she may also need that money at any time. You should honor the trust that the person has upon you; so, you should also show your responsibility and give him/her a date when you pay off the entire amount back. You may also arrange a monthly repayment schedule if the person agrees to it. Make sure you return the amount within time.
Step 6. Share a personal and emotional touch
One of the most important things to get financial help from a family member or friend is to provide a personal touch. It is important to express gratitude to the person who is giving you the money. Share your personal feelings for support. When people appreciate someone for doing good things and kindness, that person will be encouraged to do more good things again, and even inspire others too.
If anyone close to can not provide you debt help due to any reason, do not pressurize that person, or misbehave. Thank that person for his/her time and stay in touch. Remember, money can buy many objects, but it can't buy true relationships. Maybe that person may help you in other ways, in some other time!
How to get out of debt by taking help from a cosigner
Being a cosigner means helping people who don't have decent credit to grab a loan.
You may take out a personal loan and pay off all the debts you have. The lenders will provide you with financial help to manage your debts if you have decent credit and fulfill other criteria.
But if you can't meet certain credit requirements or other criteria, but you need a loan urgently, then a cosigner can help you to get that loan.
Here are the reasons why you need a cosigner:
Debt obligations - Here, in your case lenders might reject your loan application, as you have lots of debt to pay off. So, with a cosigner's help, you may get the loan easily.
Credit requirements - If you don't have a decent credit score, the lenders won't approve your loan application. So, if your cosigner has a great credit score, it can boost your chances of approval, with low-interest rates and affordable fees.
Income requirements - Lenders may check your income limit to approve your personal loan. If you don't have a decent income to support your loan application, a cosigner can help you by letting his/her own income for consideration for the loan.
So, technically, when someone close to you is cosigning a loan for you, that person is making a major legal commitment. That person will be equally responsible for the repayment of the loan if you fail to do so.
From the other person's point of view, cosigning a loan is similar to lending money to a friend, or relatives, but with legal responsibility and consequences.
If you want to approach and make the request for cosigning the loan to your friend or others persons, try to follow the steps, of asking financial help from them, mentioned above. The steps are quite similar, but you have to convince the person to agree with the legal obligation that he/she has to carry while cosigning the loan.
There are few specific situations where you might need a cosigner:
a) Finding a cosigner for a student loan
Here are some options for you to get a cosigner for the student loan.
First of all, you should consider your parents to cosign your student loan. If somehow it is not possible, you may think about your aunt, uncle, or grandparent who are capable of supporting you financially. Normally, the senior members of a family can take such financial risk for their young family members.
Your second option might be that your siblings or cousins, who are financially strong and wouldn't mind helping you.
Apart from your relatives, you may also ask a few people in your life who share a great relationship with you. Your friends and mentors, especially a former teacher or professor may also be willing to give you such support.
b) Finding a cosigner being a retired person
After retirement, it is difficult to get any loan due to strict credit and income criteria. So, a cosigner will be needed if a retired person would like to get a loan. A retired person does not have too many options to get a cosigner. Normally, people in a close circle, that is family members, kids, friends, or neighbors are the only people who can agree to become a cosigner for a retired person.
c) Finding a cosigner being a working woman
As per H.R. 5050, also known as the Women's Business Ownership Act, in October 1988, there are no cosigner requirements for the women business owners. But if you are a working woman and employed in a company, then to get a loan or credit card, your financial details and credit profile will be examined. If they are not sufficient enough, you may need a cosigner to get your job done.
Here you should follow the same path which a common borrower should follow. You should consider your spouse, your parents, or your kids (if they are capable of cosigning) first. Then you may also consider your relatives, siblings, friends, or even neighbors to cosign for you.
How to pay down debt with professional help
If you're concerned about "how to pay my debts with professional help", you may look out for programs offered by debt relief companies. Just find out how to pay down debt using such programs and choose the right one for you. Few notable options are as follows:
How to pay down debt on your own
If you're thinking of "How to pay my debts on my own", try out the strategies explained below.
Snowball method -This is where you start paying off your bills from the lowest balance to the highest. As soon as you clear the lowest bill, start making extra payments towards the account having the next higher balance and so on till you're debt free.
Avalanche method -This method is all about paying your high interest bills faster than the ones having low rates of interest. This way it'll be easier for you to find your way out of debt with maximum savings.
Do-it-yourself plan -It's a self-help plan using which you can consolidate, settle, or manage debts on your own. For further information, check out the do it yourself section.
Whether you choose professional debt help programs or pay your debts on your own, you need to understand how each option can work in your favor. It'll be easier for you to choose the right solution to your debt problem and get the maximum benefit out of it.
With proper help you can
Lower your monthly payments
Reduce credit card interest rates
Waive late fees
Reduce collection calls
Avoid bankruptcy
Have only one monthly payment
Get Debt Relief Now
How much debt consolidation can save you