If you are over your head with multiple debts in Kansas, you should explore your options in order to tackle debt wisely and avoid harassment by creditors or collection agencies.
How to tackle debts through Kansas debt consolidation
When you have multiple bills and you've been making late payments on some of them, it's essential that you take action to resolve the problem. You can tackle debts by negotiating with your creditors and asking them to lower the interest rates on your bills. If you find it difficult negotiating with creditors, you should get help with an option that'll make your bill payments manageable.
1. Consolidation program:
Here, you enroll with a Kansas debt consolidation company or debt management company that coordinates with your creditors to get you low interest rates and reduce or eliminate late payment fees and over-limit charges imposed on credit card balances. With this kind of program, you can combine multiple bills into one debt and pay them off at a low interest rate. So,
with Kansas debt consolidation, you can:
Get low interest rate on your credit accounts.
Replace multiple bills with one monthly payment.
Have late fees and over-limit charges reduced or erased.
To learn how this kind of program works, refer to the
steps in a consolidation program
.
2. Consolidation loan
If the counselor finds that you need more help, they may recommend a DMP. Under this plan, a counselor works out payment arrangements with your creditors. You make one monthly payment to the counselor who then distributes it amongst your creditors.
Kansas debt consolidation program and its benefits
If your credit report doesn't have too many negative items (such as collections, charge-offs, etc.), you may qualify for a Kansas debt consolidation loan. You can use this loan amount to pay off the balances on your existing accounts. However, it doesn't make you completely debt-free as you need to pay off the consolidation loan in small monthly payments over a long period of time (10-15 years). Know more...
State of Kansas (KS)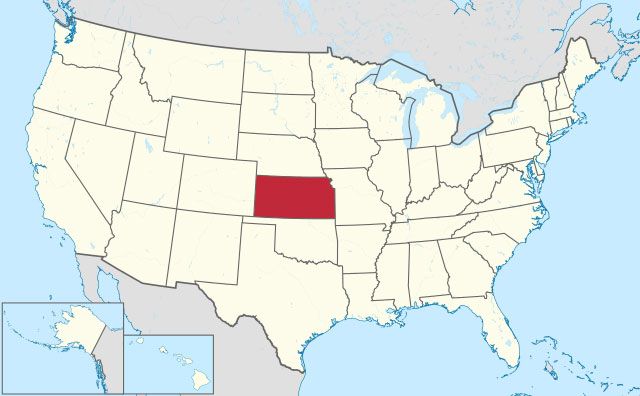 Avg credit card debt: $5,228
Delinquency rate on (credit card): 1.24%
Mortgage debt: $136,436
Delinquency rate on (Mortgage): 1.61%
Auto loan debt: $18,200
Delinquency rate on (Auto loan): 1.07%
Unsecured personal loan debt: $11,706
Delinquency rate on
(Unsecured personal loan): 2.43%
How to get rid of bills through Kansas debt settlement
With Kansas settlement programs, you eliminate part of the outstanding principal balance on your accounts. Kansas debt settlement differs from consolidation in that with settlement, you pay less than the total amount you owe. Find out how settlement works.
An example on how settlement works
Let's say, Tim has 2 credit cards, 1 medical bill and 3 payday loans. The details of the accounts are:
Credit card X has outstanding balance = $40000
Credit card Y has outstanding balance = $60000
Medical bill has outstanding balance = $25000
3 Pdls having total outstanding balance = $50000
So, Tim owes = $175,000 in total
If Tim negotiates a settlement, and his creditors agree to accept 45% of the outstanding balance, then he has to pay= 45% of ($175,000)= $78,750
So, Tim will save = $175000 - $78750 = $96250
If the settlement company charges Tim 25% of his savings, then Tim's net savings= $96,250 - (25% of $96,250)= $96,250 - $24,062.50 = $72,187.50
So, with Kansas debt settlement, you get 3 benefits:
You pay less than you owe
You can get rid of bills in about 2-4 years
You save money
Downsides to Kansas debt settlement
When you choose settlement, it takes some time to accumulate enough cash to pay the settled amount. This will negatively affect your credit score at first, but once you settle your bills you can gradually repair your score. Learn how to repair credit after settlement.
Case study
Scenario:
My dad had to be hospitalized in July of 2006 for sleep study. He was insured through his former employer (now retired), Medicaid, and my mother's employer. But, this year January 2009, my mother received a copy of outstanding medical expenses of $3000, from my dad's hospital.
We confronted that dad was covered under three different insurance and it was the nursing home's duty to bear the cost of my dad's treatment, as he's been living there since April 2006. My mother is the legal surviving spouse of my dad and gets a paltry amount from dad's pension, while most of it is used to pay for nursing home services.
The hospital has informed us after full 2.5 years about the bill. According to the nursing home, Medicaid benefits requires timely submission of claims for payments. Now, 2.5 years is definitely not timely. How do you suggest we deal the hospital's inefficiency?
Solution:
It'd be best to consult a lawyer who specializes in handling issues related to medical industry based in KS.
Still, if you've been slapped with a huge medical debt and you've got little or no financial resources to pay up, you can always file for bankruptcy protection and resolve your debt problems. In this case, you'll have to consult a licensed bankruptcy attorney to help you with the court procedures.
Apart from that, you can get a medical bill audit done to rule out any chances of error by the hospital staff.
How much
you can save
in Kansas
FAQ on Kansas debt consolidation and settlement
Is Kansas debt settlement legal?
Ans:
Settlement is legal in Kansas, but only law firms can offer them.
Know more...
I have 3 storefront payday loans and I thought of including them in a Kansas debt consolidation program. But I've learned that pdls cannot be included in this kind of program. I've stopped paying on these loans and have sent letters to the creditors explaining my financial problems. I've received phone calls from creditors but I'm not sure whether they'll agree to negotiate. Is there any way I can consolidate these pdls?
Ans:
PDLs may be included in a Kansas debt consolidation program, depending on the company. Therefore, you should request an Extended Payment Plan (EPP) from your lenders. In an extended payment plan, you are allowed to pay off a bill in 4 equal installments with no extra fees or interest. However, your ability to get an EPP depends on whether your lender is a member of the Community Financial Services Association (CFSA) and if your state permits an EPP.
I have multiple bills - credit cards, medical bills, and pdls. I'm also getting collection calls at odd hours. I'm afraid they may sue me and garnish my wages. How do I get out of this situation?
Ans:
Since wage garnishment is legal in Kansas, your creditors can sue you and obtain a judgment that will permit them to garnish your wages. To avoid this situation, you should enroll in a Kansas debt settlement program and have your outstanding balance reduced .
However, you should settle your bills only when you're in a deep financial crisis and you cannot afford to pay the principal and interest each month. If you can afford to pay on your bills every month, a consolidation program will be a much better option, as it won't hurt your credit score the way settlement does.