How can you celebrate Thanksgiving day on a budget?
How can you celebrate Thanksgiving day on a budget?
Thanksgiving Day or the celebration day of gratitude is round the corner. Usually, we spend the day with our friends and family and feel fortunate enough to have them in our lives.
So, we mark the celebration by prepping right from roast turkey to apple pies and enjoying a delicious meal with your close ones.
However, inviting your close friends for dinner when the prices of the food items are increasing with each passing day can be quite expensive. And it can hurt your budget too.
You might think it's impossible to host a generous palate-pleasing Thanksgiving dinner on a budget. But let me tell you that it's possible!
Here are some of the tips that you can follow to celebrate Thanksgiving Day without hurting your budget!
Let's start one by one.
1. Plan your budget wisely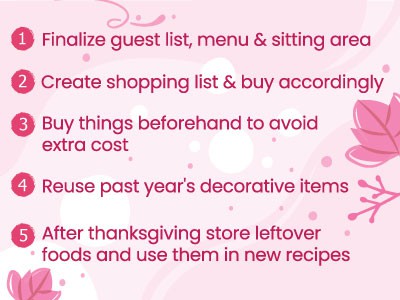 Well, you must be very excited about celebrating Thanksgiving with your close ones and spending time with them. But at the same time, you should not forget about your finances.
That's why you need to budget accordingly so that you don't run out of money amidst the celebration. A CNBC report has revealed that in 2018, people in our country racked up an average holiday debt of $1,054.
So, plan your budget and chalk out how much funds you can dedicate for Thanksgiving celebrations, and stick to it. Otherwise, you may end up opting for some fast cash options like a payday loan for covering your holiday expenses.
2. Prepare a checklist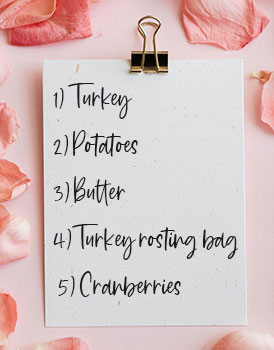 Create a list of the items you'll need to serve a delicious meal to the guests. You'll want your guests to be well-fed. So, chalk out the essential items you'll need on a piece of paper.
Visit the stores and purchase the necessary items a few days early. By doing so, you can avoid large crowds at the stores which is a usual scene during the Thanksgiving season.
Eventually, you can buy your stuff without any rush, and the chances of missing out on any product become much less. Besides, you might buy the products at a comparatively lower rate than that of Thanksgiving Day.
So, you can certainly save some money by buying the necessary items in advance. And thereby, you can stick to your budget too.
3. Organize a Thanksgiving potluck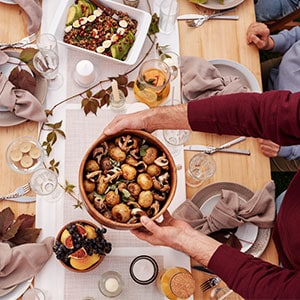 If you're hosting the Thanksgiving dinner party at your house, it doesn't necessarily mean that you'll have to shop and cook alone! So, you can encourage your friends to celebrate Thanksgiving in a potluck style.
Ask your friends to cook and bring one dish to the dinner party. Hopefully, they won't mind if you ask them to cook a dish of their choice. Rather, I believe, they will cook the dishes with enthusiasm and feel happy to help you in some way.
Thereby, you can save money and your precious time. And your friends will feel more involved too.
4. Be a smart shopper for Turkey
Have you signed up for a store's loyalty program?
If yes, check whether or not they are offering free turkeys in their Thanksgiving program. During this time, many supermarkets offer free turkey to their customers who spend a certain amount in their stores.
For example, Weis Markets started its Thanksgiving program on October 8, 2020. You can shop and earn reward points through November 26, 2020. And you can redeem your points from November 8, 2020, to November 26, 2020. To be eligible for a free Weis Quality frozen turkey, you need to earn at least 400 points.
Also, you can consider buying a frozen turkey by paying about 30% to 40% less than the cost of a fresh one. But make sure to refrigerate it well and cook properly. For reference, you can watch videos on the internet about how to cook frozen turkeys.
5. Buy seasonal produce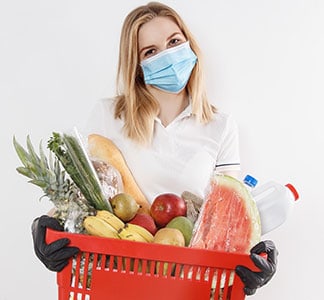 Fresh seasonal produce can make your Thanksgiving dinner colorful and won't burn a hole in your pocket, too. During November, you can find seasonal fruits and vegetables like apples, cranberries, pomegranates, brussels sprouts, rutabagas, etc.
So, you can visit your local farmers' market and buy fresh seasonal produce for your Thanksgiving dinner. And hopefully, you won't have to shell out a lot that you would have for buying out-of-season products.
If needed, you can go through the seasonal produce guide provided by the US Department of Agriculture and get a better idea.
6. Simplify your decorations
Decorations are one of the important things on Thanksgiving day. You might feel tempted to buy new decor every year. But you don't need to spend a lot of money on decorations.
Use simple dinnerware and compliment the entire table set up with a few candles. And instead of buying store made decorations, you can get some DIY ideas on Pinterest.
Also, you can take a walk in your neighborhood and find fall leaves, pine cones, for free. If you want to buy tablecloths or cloth napkins, you can check in your local thrift store to find a better deal.
Besides, you can buy pumpkins, herbs, dried grasses, etc. that cost a few dollars only. If possible, I would suggest you save the seeds of the pumpkins and gourds to plant them for next year.
Lastly, it's better to avoid buying fancy pots and pans. You can roast the turkey in a disposable roasting pan. It would cost much less than a large pan needed for roasting turkey. And you won't have to worry about washing dishes too.
7. Plan what to do with leftovers
Leftovers of Thanksgiving celebrations are quite common. The general size of the dinner turkey and the copious quantities of food that is prepared to mark the occasion can outnumber your guests.
So, you need to make a plan about what you will do with the leftovers. Starting from corn and stuffing to turkey, you can use all of it jointly and severally in various preparations for lunch, breakfast, and dinner over the next few days and you will not even need to spend an extra dollar.
For example, you can make breakfast hash by cooking leftover turkey, sweet potatoes, and Brussels sprouts altogether. And if you notice leftover cranberry sauce, you can preserve it for the toppings of pancakes.
How to celebrate Thanksgiving during this pandemic
According to a recent CNN report, coronavirus cases in our country are going to be almost 10 million. And that's why you need to prepare your Thanksgiving celebration differently this year. You have to make sure that you don't catch this highly contagious virus and put your close ones at risk of COVID-19 infection.
Thanksgiving celebration differently this year. You have to make sure that you don't catch this highly contagious virus and put your close ones at risk of COVID-19 infection.
So, here are a few tips that you can keep in mind to celebrate Thanksgiving during the COVID-19 pandemic.
1. Invite a small group of people
Well, I know that you would love to spend time with your close ones. But you need to keep in mind the guidelines of CDC (Centers for Disease Control and Prevention) for hosting gatherings during this pandemic.
So, invite a small group of people to Thanksgiving dinner so that following social distancing norms become easier.
And if possible, try to host your gathering outdoors to maintain proper ventilation. If you want, you can set up a competition with different games like bocce ball, badminton, and so on.
2. Host a virtual dinner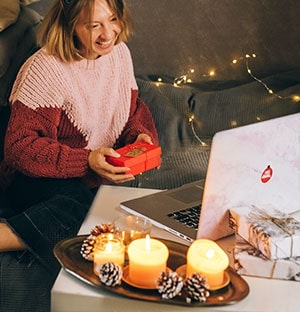 As we all know, Thanksgiving is all about spending a good time with your friends and family. And the dinner is an integral part of the Thanksgiving celebration.
But due to the outrage of COVID-19, you might plan to skip the tradition this year. Well, no need to do that. You can follow the same tradition this year too by hosting a virtual dinner through Zoom, Skype, FaceTime, etc.
3. Refrain from potluck dinners
Though I have suggested arranging a potluck dinner, but this year the way of celebration is going to be different since we are going through a pandemic situation. And COVID-19 can spread when an infected person touches the food packaging or utensils. So, it's better to avoid potluck dinners this year. And request everyone to have their own food and drinks.
If needed, you can give responsibility to a specific person who will serve the sharable items. But make sure that he/she washes hands for at least 20 seconds before serving food and wears a proper mask.
4. Avoid traveling
Usually, on Thanksgiving day, you may plan a trip to grandma's house or visiting your extended family. But according to a CDC report, travelling can increase your chance of getting and spreading COVID-19. So, the best option would be to stay at home to keep yourself and your family safe.
So, the bottom line is, celebrating Thanksgiving on a budget is not a cumbersome task to do. All you need is proper planning and some of the best ideas for planning a Thanksgiving family reunion this year. Hopefully, the above-mentioned tips will help you to celebrate Thanksgiving on a budget and create some good memories with your loved ones.
Remember, Thanksgiving is all about showing appreciation and gratitude to your friends and family. So, spending quality time with them matters; not how much money you are splurging.