When you're overburdened with multiple bills such as credit cards, medical bills, payday loans, and you're having sleepless nights trying to work out a solution to your problems, you should consider consolidating your bills into one affordable monthly payment.
Delaware debt consolidation - Options that may work for you
If you have multiple bills like high interest credit card debts, mounting payday loan debt, here's how you can consolidate and pay them off.
Consolidate credit card bills:
If you're unable to pay off credit card (cc) bills, you should contact your card issuers and ask them to lower the interest rate so you can manage your bills. Check out these
13 tips to negotiate your debts
.
If you aren't comfortable negotiating with creditors or collection agencies, you can get help from a Delaware consolidation company to negotiate lower interest rates on your bills. You need to enroll in a Delaware consolidation program where you pay one monthly installment to the company that distributes it amongst your creditors. Get further details on how credit card consolidation works
Consolidate payday loans:
You can consolidate pdls with help of a
payday loan consolidation
program. This works the same way as any other consolidation or debt management program.
You can also consolidate your payday loans with an unsecured consolidation loan available at a low interest. These loans provide you with enough cash to pay down your outstanding balance. Use the debt consolidation calculator below to find out how much you can save and how long it'll take you to get debt-freeIf you discover that payday lending is illegal in your state, you only need to pay the outstanding principal balance, and no interest, towards the pdl account. Learn more about how to handle illegal pdls.
State of Delaware (DE)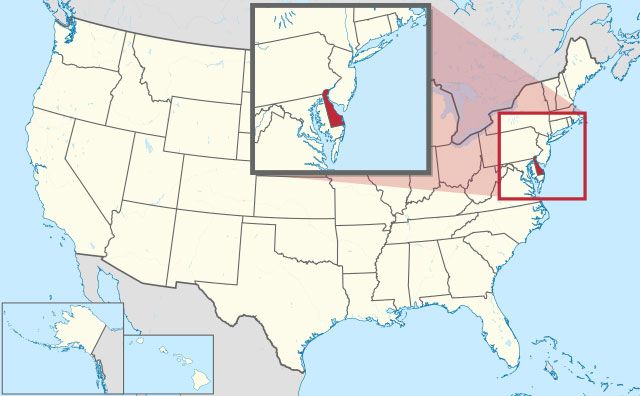 Avg credit card debt: $5,675
Delinquency rate on (credit card): 1.64%
Mortgage debt: $187,195
Delinquency rate on (Mortgage): 3.69%
Auto loan debt: $17,418
Delinquency rate on (Auto loan): 1.44%
Unsecured personal loan debt: $11,284
Delinquency rate on
(Unsecured personal loan): 2.25%
Combine and merge student loans:
If you're stuck with private student loan debt, you can use a Delaware debt consolidation loan to pay off multiple student loans with a lump sum payment. There is also an Income-based repayment plan that is effective in paying off your student loans with ease.
Consolidate medical bills:
If you've accumulated a lot of medical bills and you can't afford the monthly payments, a Delaware debt consolidation program may work for you.
Other than cc bills, pdls, and medical bills, you can consolidate utility bills and personal loans with a Delaware consolidation program or loan.
Benefits of Delaware debt consolidation
You'll get the following benefits when you consolidate bills:
You find a way to manage your bills comfortably.
Monthly interest payments get lowered.
Penalty fees on your accounts get reduced.
You can get rid of creditor/collection calls.
Delaware debt settlement - What it is all about
When you have to pay multiple bills together and you're in a financial mess, you may be able settle your debts by paying an amount less than your outstanding balance. Use the settlement calculator and find out how much you'll save with a Delaware debt settlement.
Case study
Scenario
Hey there! I'm from Newark and I'm in a fix, For a while now, I'm looking to pay off my credit cards in the best possible way I can. Mostly, I stick to making the minimum payments X 2. So, I'm to pay $350/month, then I make sure I pay $750 or more, whichever is comfortable. Off late, I've read in some debit sites and financial advice forums, and according to some of them making minimum payments is good followed by extra payments within next 2 weeks. This they say will reduce my debt faster and more suitable than paying off in one lump sum amount right at the start of the month. Do you think it's true? I'm in a fix. Should I split my monthly payments into 2 as suggested or should I stick to making payments as I've done till date? Please advice.
Solution
There's no financial formula that would say one-size-fits-all. As per your information, it'd be better if you sit down with a debt expert or a certified financial planner to work out a suitable debt repayment strategy. You can continue to making the payments as you've said you do. However, there's no harm in trying out fresh repayment tactics every now and then either. Still, if you find yourself stuck in a Catch-22 situation, then you can work with a professional debt consolidation company in your local county or state.
How much
you can save
in Delaware
FAQ on Delaware consolidation and settlement
I've taken credit cards to pay my school expenses for the past 3 years. That's because my family couldn't afford to pay for my education. Then one day my car hit a Mercedes Benz and the lady driving it was uninsured. She was drunk but the cop let her go (even though there was a lawsuit). Therefore, I had to buy a new car and had to spend a lot of money on it. I'm scared, because I can barely make my payments. I want to rent an apartment, but my credit is too poor. Can I get a Delaware consolidation loan to pay off my cards?
Ans:You may get a Delaware consolidation loan to repay your cc bills. But such loans are rarely offered if your credit is too bad. The bank or lender will first check your credit report and score and then approve your loan if you meet their qualifications. I understand that you're willing to get rid of credit card bills with a loan obtained from a consolidation lender, but if you don't get approved, you should consider enrolling in a Delaware debt consolidation program.
I pulled my credit report a few days back only to find that the same store card account has been reported by multiple collection agencies within the same year. I'm confused as to whom should I pay? How do I remove the others from my credit report?
Ans:The same account shouldn't be reported by more than one collector. You need to dispute this item with the credit bureau. The officials will talk to the collectors and find out who actually holds the account. They will then update your account status accordingly. Now if you find it a bit difficult to pay off the store card, you can ask the collector (to whom you actually owe the money) to offer you an alternative repayment plan. However, if you have other unsecured bills, you can enroll in a Delaware debt settlement program where you can conveniently pay off all your bills.