When you're falling behind on your multiple bills in Alabama, and creditors keep calling you in order to collect on the debt, you should seek help and advice from an Alabama consolidation or settlement company.
How do Alabama debt consolidation/settlement companies help?
Alabama consolidation/settlement companies offer relief programs to help you pay off your bills comfortably without defaulting. A consultant at the consolidation/settlement company offers a free counseling session where he'll review your finances, and based on your circumstances, suggest any of the following programs:
Alabama debt consolidation:
This is a program where a representative from a consolidation company negotiates with your creditors or collection agencies to get them to accept payments at lower interest rate. They may also be able to reduce or eliminate late fees or over-limit charges. The best thing about this program is, you can replace several bills with one monthly payment.
Learn more...
Alabama debt settlement:
During a settlement program, a consultant negotiates with your creditors and collection agencies to lower your outstanding principal balance. Depending upon the number of bills and the amount you owe on each, you may be able to reduce your outstanding balance by much less than the amount you owe.
Learn more...
What are the costs of these programs?
Alabama consolidation and settlement companies ask you to pay certain upfront fees. You will also need to pay a monthly maintenance fee for each account you include in the consolidation/settlement program. If you have enrolled in a debt settlement program in Alabama, you may also have to pay a certain percentage of the amount creditors agree to forgive, as a success fee.
State of Alabama (AL)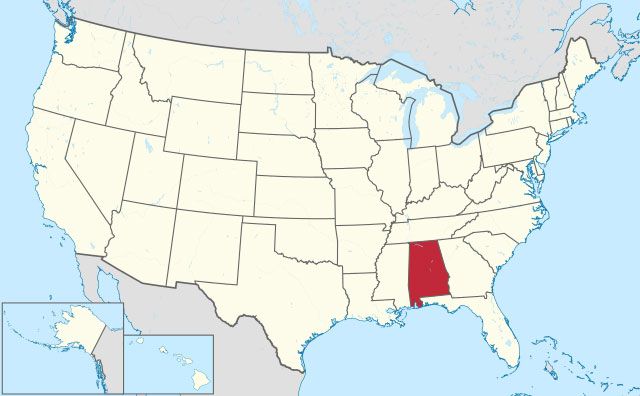 Avg credit card debt: $5,238
Delinquency rate on (credit card): 1.90%
Mortgage debt: $134,895
Delinquency rate on (Mortgage): 2.45%
Auto loan debt: $19,173
Delinquency rate on (Auto loan): 1.86%
Unsecured personal loan debt: $9,204
Delinquency rate on
(Unsecured personal loan): 4.39%
Do non-profit companies offer these programs for free?
Non-profit Alabama debt settlement and consolidation companies may offer you programs for a low fee. There may be a charitable organization in your area that will offer you free credit counseling. Alabama debt consolidation/settlement programs offered by these companies work the same way as those offered by a for-profit company.
What are the benefits of such programs?
Alabama debt consolidation programs have the following benefits:
Reduce interest rates on your bills.
Waive off late fees and penalty charges.
Pay a single monthly bill instead of many.
Get rid of bills within a short period of time (4-6 years) comparatively.
Alabama debt settlement programs have these advantages:
Creditors/CA will reduce the total amount you owe.
You can have your late fees/penalty charges eliminated.
You can get rid of creditor or collection calls.
You will not be sued by creditors/CA.
For further details, refer to 8 benefits of consolidation.
Case study
Scenario
My daughter has finished her second year of college at University of North Alabama, Florence. Till date, I've financed her college education in full. A big source of fund were her 529 Plan, a number of scholarships, and our current household income. Still, we're cringing to make the payments. Now, it's become a challenge to fund her through 3rd and 4th years of college and am seriously thinking of student loans. My prime choices are Stafford, PLUS, private, etc, but I'm lost.
Solution
As per Alabama Income Tax Deduction, you can deduct $5000 against a single tax return or $10,000 against a joint return in a given tax year for all the contributions you make to your child's 529 Plan. This saved tax amount will be an added help for you to keep your daughter's college fund well-oiled. Moreover, there is an additional potential for growth in your return on investments, hence, a favoured chance to use the tax-deferred growth in your investments. Still, you must consult a licensed tax attorney for guidance.
To increase your savings and your disposable income for larger college payments you can take advantage of qualified college expenses that are income-tax free. Some of the qualified expenses are:
Tuition
Fees
Supplies
Equipments
Books
Computer and other associated peripherals, including Internet access
Reasonable accommodation
Costs for special needs in case of special needs beneficiary.
As far as federal, state and private college funding options are concerned, then you can contact the student loan officer at your daughter's college.
How much
you can save
in Alabama
FAQ on debt consolidation and settlement in Alabama
I have taken out 7 pdls in March-May 2009 and since then the lenders have been withdrawing money. I can't even pay my other bills. Can debt consolidation programs in Alabama help?
Ans:
Payday loans are legal in the state of Alabama. So you'll have to pay the principal as well as the interest. What you can do is, take out an Alabama debt consolidation loan to pay off your pdls in one lump sum payment. You'll be given a repayment plan to make your monthly payments on your consolidation loan.
Learn more...
My spouse has been threatened with wage garnishment for unpaid medical bills. What can we do to avoid this situation?
Ans:
In order to avoid garnishment, you should work out a payment arrangement with the hospital authorities if you can afford to make monthly payments. Many hospitals have hardship programs for those who cannot pay their medical bills due to financial problems. To take advantage of these programs, you need to explain your financial problems to the hospital authorities.
However, if you can't afford to pay your bills in full, you should settle them with the hospital. If you don't think you can comfortably negotiate a settlement, get help from a debt settlement company in Alabama.
Learn more...
Does Alabama debt consolidation or settlement hurt your credit?
Ans:
Debt consolidation programs in Alabama do not hurt your credit score. These programs enable you to pay off your bills, which help you raise your score. However, Alabama debt settlement programs do have a negative impact on your credit score. That's because when you enroll in an Alabama debt settlement program, the company asks you to stop paying your creditors until you've accumulated enough money to make a lump sum payment on your bills. However, you can
repair credit after settlement
and get your credit score back on track.
My dad has expired. Some of his credit card debts are in my mother's name. She can't pay off the debt. Should I suggest her not to pay off debt? Will credit card companies settle credit card debt with her? Her credit score is not an issue. What should she do?
Ans:
It would be wrong to encourage her for not paying off debts. Rather, you should ask her to settle debts as soon as possible.
Credit card companies may agree to settle her debts if she is in hardship. If you can negotiate on your mom's behalf, then that's good. If you can't, then you can take advantage of debt negotiation services.
Learn more...